CRG members celebrated World Gin Day in various ways, but none more splendidly than our Founder, Marvin Faure.
Marvin and Emmanuelle threw a party at their charming home on the Franco-Swiss border. Guests came from across the globe. One of the CRG's originals, Nigel Hall, jetted in from Sydney with his wife Sian, and was delighted to be reacquainted with the Campaign after a gap of some 35 years; there was bold talk of a Sydney draught. Steve Marriott – another original – and Bob Gibson represented the CRG, with Anne and Lynne.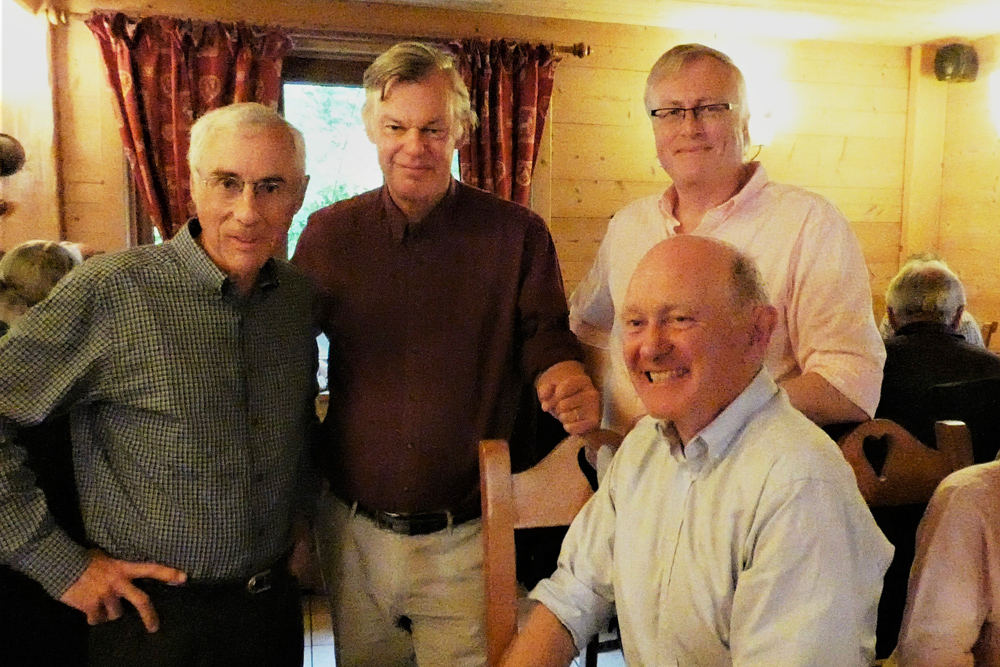 Reunited at Divonne-les-Bains: founder Marvin Faure, with Steve Marriott, Nigel Hall and Bob Gibson
When Marvin rose to speak, curiously he chose to focus on the fact that he and Emmanuelle had been married for 25 years, and that they both have 'big birthdays' in 2019. And there was no suggestion of 'Dead Ants' at the end. However, Steve and Bob spread the word, and it was clear that many of the guests were familiar with the CRG, and intrigued to discuss gin with supposed afficionados. (Removing tongue from cheek for a moment, all CRG members join in sending Marvin and Emmanuelle felicitations for their milestones.)
Meanwhile, on the Isle of Wight, Hon Sec Nick Ellis was observing World Gin Day with brother Dave. Starting with Roaring Forties tied up at Gosport, they then proceeded to enjoy a Warner's (formerly Warner Edwards) "Harrington Dry' on the Haslar Marina Lightship, from which they enjoyed the fireworks to mark World Gin Day the end of the week's commemorations of the 75th anniversary of D-Day. The following day, after a pleasant sail from Gosport to Bembridge, they walked the three miles to the Isle of Wight distillery, where they sampled HMS Victory Navy Strength gin.