The CRG 2013 cricket season was memorable and happy. Two new fixtures were added, both in splendid settings.
First, CRG visited "the cradle of cricket": Broadhalfpenny Down. This was the setting for a match against Hambledon Village, captained by the Campaign's newest member, Tom Bailey.
It is a lovely ground, with a stone monument to the famous Hambledon club, which during the latter part of the 18th century could field a team so strong that it could beat All-England. This match did not feature such strong players. But it was graced by Magnus Eriksson on his 55th birthday, celebrated by a delicious lunch provided at his expense.
The captains agreed that such a fine traditional setting warranted an all day, declaration match. Tom Bailey was worried by the strength of his side: he told the CRG skipper, Oliver Wise, that he had only two men capable of making a decent score.
Bailey was proved right. Humphrey Dettmer, the opener, scored 80, including three sixes; but he was overshadowed by Danny Rowland, who made 163 not out, including 13 sixes: the highest score ever made against CRG.
Hambledon Village took only 35.3 overs to score 273 all out. The wickets were shared between Oliver Wise (4 for 59, including a rare wicket maiden in his first over), Michael Hosford-Tanner (4 for 72) and James Powell (2 for 54).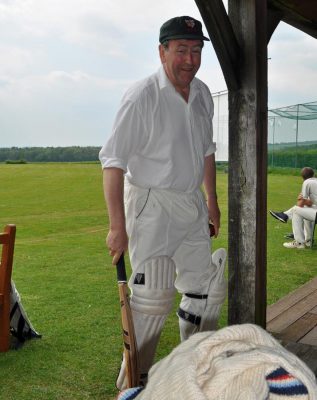 By contrast, CRG's innings was a more stately affair, lasting 55.5 overs. Top scorer was James Powell's 41. There were notable CRG personal bests. Magnus Eriksson's scored a near flawless 14, before stretching for a wide ball he should have left and being caught. Coming in at the fall of the sixth wicket, Noel Manns hit a confident 40, splendidly exceeding his best previous CRG innings: 23 not out against Lincoln's Inn in 1989. CRG were eventually all out for 196.
Our second match was also against a side that we have not played before, adding further sparkle to what has become a short but prestigious fixture list.
James Berry, one of our guests at the Christmas dinner at the Athenaeum, mentioned that an old school friend had both a cricket team and a ground. After a few convivial hours spent in the company of members of the Campaign, he felt confident that the teams had a similar approach to life and to the game.
Arrangements fell quickly into place and on a fine day in June a convoy of CRG vehicles swept through the gates at Althorp in Northamptonshire, home of Charles Spencer.
The opportunity to play in such a magnificent setting had attracted some of CRG's finest cricketers, although one or two stalwarts were absent due to commitments on the rounders field and elsewhere.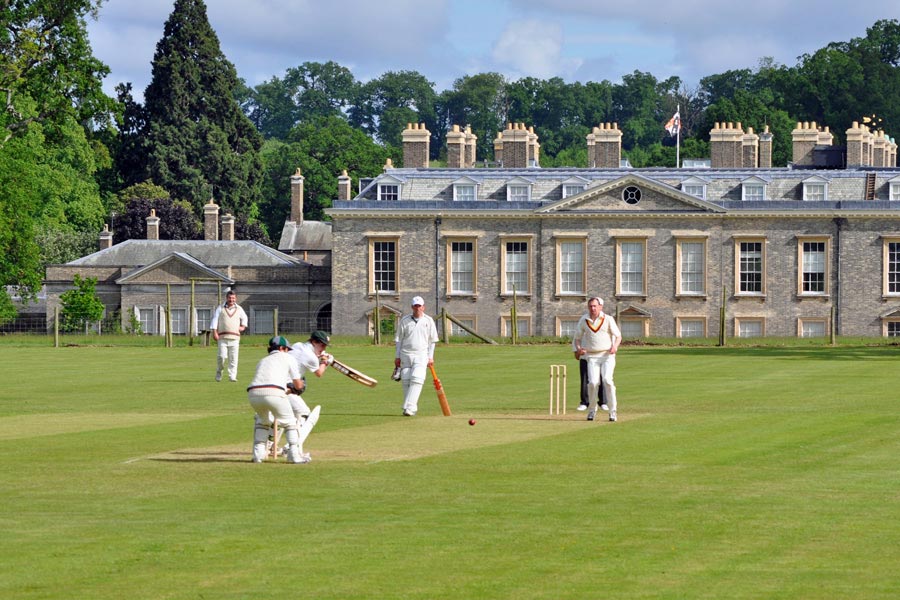 Anticipating a keen contest, the selectors were careful to balance experience and youth, with the addition of young Goodfellow and Krarup, ensuring that a level of mobility was maintained in the field. We also had the luxury of a dedicated umpire and our thanks are owed to Dick Cawley for overseeing proceedings with such a firm hand.
Althorp batted first and scored 175 for 5 off their 20 overs, most of the damage being inflicted by a talented Mongoose-wielding South African batting at number three. Success with the ball was shared more or less equally amongst the bowlers, including both Goodfellows and a mysterious Dutchman described in the scorebook as Jos Van Stammer. (The Campaign graphologist has since confirmed this to be Hosford Tanner – Ed.)

CRG made a reasonably solid start, anchored by a confident knock from Gibson who put on 13 before being run out, going for – in the immortal words of the CRG Calypso – a 'quickish single'.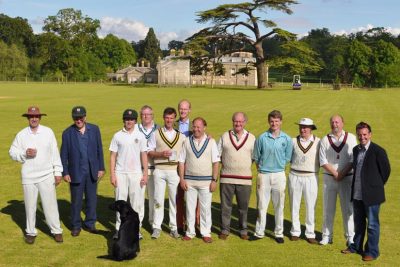 Wickets then began to fall more frequently and we drifted below the required run rate. At the end of our allotted 20 overs, we had scored 83 runs for 8 wickets, with the Club Captain retired hurt and E. Krarup not out on 23, having faced some fiery bowling in the last few overs with seven slips and a gully.
The teams then returned to the house for a very fine match tea in the most sumptuous surroundings. All in all, it was wonderful afternoon, which we hope can be repeated.
And so to Herefordshire. The long-established match against Jeremy Helme's Vagabonds was a 35 overs game played on the attractive 1st XI ground at the Elms prep school.
Remarkably, the CRG skipper, Noel Manns, had an embarras de richesse, with the unexpected arrival of both Hugh Mathew-Jones and William Harding. It was agreed to play 12 a side and to field 12 men as the outfield was small. The Vagbonds batted first and made 169 for 9.
The best CRG bowling came from their youngest players: Edmund Krarup took 3 for 20, Philip Gallagher 2 for 16 and Harry Wise 1 for 21, each bowling six overs.
In reply Hugh Mathew-Jones's 42 and Ollie Powell's 83 not out saw CRG home with seven overs to spare.
The last match of the season was the closest contest. The CRG quinquagenarians were feeling the effects of the Vagabonds match, both Manns and Eriksson reporting unfit.
This resulted in the debut captaincy of CRG in the person of Charles Gallagher, whose leadership was characterised by clear-thinking in the field and the retention of control – more or less – over the Almeley innings.
Almeley made a useful 212 for 3 off 35 overs; the run-rate being restricted by tidy bowling from Edmund Krarup, Harry Wise and James Powell. Pick of the bowlers was Ollie Powell with 2 for 7 off 7 overs.
The CRG innings was a story of good partnerships: the openers, Krarup pere et fils, produced a good start, and the Powell brothers then put on 72 for the third wicket, when Ollie was caught behind for 40.
For a while, James Powell and Bob Gibson were pegged back. Then James launched an onslaught. Eight balls to James produced 27 runs. James's 77 not out was his best score for CRG. The match was won with five balls to spare.
Magnus Eriksson scored throughout the match. Never before has the CRG scorebook exuded such immaculate tidiness and precision.
Special thanks are due to Noel and Nienke, who, as ever, organized the Herefordshire weekend and entertained those who could stay late on the Sunday evening to a delicious barbecue supper.