In 2021 cricket was still affected by the Covid pandemic, though the CRG put on a fine show, winning all its three fixtures. No net was possible in 2021, but happily we were able to resume our pre-season net at Lord's on 3 May 2022, kindly sponsored by Magnus Eriksson, who was joined by Ed Krarup, Oliver and Harry Wise, and Charles, Conor and Philip Gallagher.
The CRG's first match was played at the Corpus Christi College Ground in Cambridge on 9 July. The Carthaginians were captained by a regular in this fixture, Aurelien Gueroult, who is currently a surgical trainee at the Royal Brompton Hospital. Gueroult won the toss, and invited CRG to bat in a 30 overs match.

The CRG innings was a triumph for Ollie Vartan, who opened the batting and scored 139 not out. This was the highest score in the history of the CRG cricket club, eclipsing David Reeve-Tucker's 124 not out against the 1st Battalion, the Royal Regiment of Wales, which had stood as the record since 1997. Recognising Vartan's form, the other CRG players assisted him in retaining the strike. He hit three sixes and 24 fours. The next highest scorers were Mr Extras, who accumulated 12, and James Berry and Magnus Eriksson, who each scored 10. After Eriksson's dismissal, he stayed on the field to act as runner for Charles Gallagher, who had become lame during the warm-up. CRG finished on 194 for 4. The Carthaginians bowled well; including two tidy overs of spin from Hattie Wilson (of King's School, Canterbury and Corpus Christi), the first woman to play for the Carthaginians against CRG.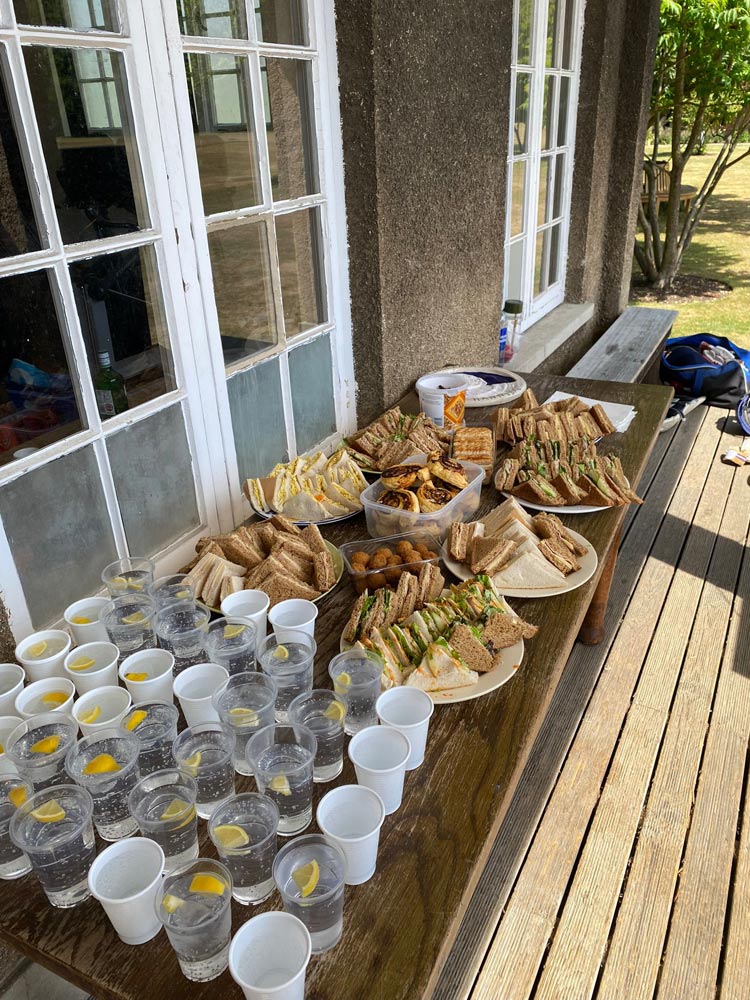 During the interval, Charlotte Davison and Connie Krarup served up a magnificent tea with sandwiches and gin, which was enjoyed in glorious sunshine. Eriksson observed with pleasure what he described as "the socio-geographical diversity of the gathering with young & old, city-dwellers & country bumpkins, professionals & retirees and, at least, 5 different nationals present (British, Irish, French, Swedish & Italian)".
The second innings of the match was well contested. CRG had set a challenging but achievable total. Ogilvie (28) and Wilders (37) made a decent start, and Foord (21), Isherwood (33 not out) and Gibbons (16 not out) hit out. CRG's accurate bowlers and a masterful field set by Ed Krarup prevented easy scoring . It was only at a later stage, when the batsmen were beginning to assert themselves, that Krarup brought on Conor Gallagher to bowl spin. This proved to be much more accurate and effective than his medium pace of yesteryear. Conor took a wicket in each of his first three overs, finishing with 3 for 33. The Carthaginians closed on 166 for 6. CRG won by 28 runs and were presented with the magnificent Hannibal trophy.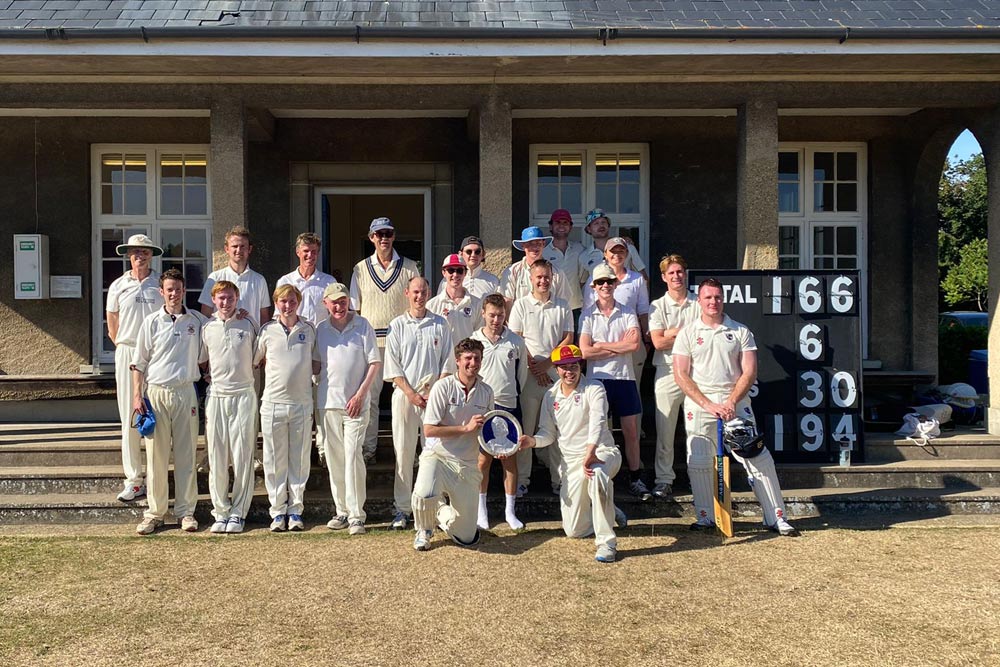 Afterwards, a splendid dinner was given at the Pitt Club.
And so to Herefordshire. The Saturday game against Jeremy Helme's Vagabonds was played again at the Mynde, Much Dewchurch.

This was a 30 over match, with batsmen retiring at 30, and wides and no-balls counting as two, with no replacement balls. The CRG were a man short because of an injury to Ollie Penney, who appeared on crutches at Almeley to spectate the following day. Neither Noel Manns nor Simon Goodfellow, longstanding stalwarts of past years, was fit to play, but both did some umpiring.
The Vagabonds batted first. In the second over Goodfellow had to adjudicate on an LBW appeal, when Wilders had Jeremy Helme caught on the crease, in front, when he had made 1. After due consideration, and to Helme's undisguised annoyance, Goodfellow's forefinger was raised.
Helme's insistence at the time that this was an example of repeated adverse umpiring (not the words he used) was at odds with his position on the pitch, the trajectory of the ball, Goodfellow's demeanour and reputation for scrupulous fairness, and with the statistics of this fixture.
Quite rightly, there is no convention not to give batsmen out LBW. In the past five years three CRG batsmen and three Vagabonds' batsmen have been given out LBW. Analysis of all the dismissals in the fixture from the start of the current CRG scorebook in 2009 to 2022 shows that 10 CRG batsmen have been given out LBW out of a total of 77 dismissals, compared with eight Vagabond batsmen out of 85 dismissals.
The other top and middle-order Vagabond batsmen all did well. Lancaster scored 21 before being well stumped by Ed Krarup, the first of Krarup's three dismissals. Both Jeremy Helme's sons and both Joneses batted well. The pick of the batsmen was Charlie Argent, who hit four sixes, before retiring at 30. CRG conceded far too many wides, which were being strictly enforced. However, Byatt (2 for 28 off three overs) and Captain James Powell (3 for 8 off three overs) bowled well. Pick of the fielders was Ollie Vartan, who took a fine catch in the deep.
The Helme XI had much stronger bowlers. CRG were always behind the scoring rate; but mention must be made of Ollie Vartan, who after retiring at 30, returned to post 57, and Ed Krarup's 34. CRG scored 194 for 9 in their 30 overs. Argent and David Reeve-Tucker each took three wickets. The Vagabonds won by 24 runs.
CRG vs Helme's Vagabonds The Mynde 2022 (click any image for gallery view)
A delicious cricket supper was held, attended by players and friends, well hosted by Jeremy Helme in his garden, at which conversation, beer and wine freely flowed.
The final fixture of the season, as ever, was at Almeley, who batted first. Digger Duggan batted with his usual style and aggression, retiring at 50, after hitting a six and eight fours. His fellow opener, Tyler Jones, is only 11 years old, and small for his age. But he has determination and a proper cricketing brain, and he is an able wicket-keeper batsman for his age.

Captain James Powell had opened with spinners, who were economical. Conor Gallagher's four overs conceded only 14 runs; Kit Byatt's four conceded 16. Philip Gallagher conceded 12 off his 4 overs of medium pace. Harry Havelock-Allan's four overs cost 16. Still no wicket had fallen.
Eventually Krarup called on Wilders who conceded only 11 off four overs. Then Oliver Wise and Ollie Powell bowled for most of the rest of the innings. Wise was rusty, having bowled only two overs in match cricket all season, and he was fortunate to bowl mostly to the less powerful batsmen; he took 3 for 33 off 9 overs. Powell had to bowl to stronger batsman and so his 3 for 39 off 8 overs was a far better spell. Bowling off-breaks at a decent pace, he knocked a stump out of the ground when dismissing Richard Williams, one of Almeley's better batsmen, for a duck.
The CRG fielding was mainly of a higher standard than usual . Philip Gallagher's catch running back from short square leg to catch Tyler Jones was good; his brother Conor's sprint in the deep to catch Tighe off Ollie Powell was even better. Wicket-keeper Ed Krarup bravely did not retreat when an Almeley batsman turned round to hit a slow ball outside leg stump straight at him. The ball came off the face of the bat into his gloves; sadly, Ed could not hold on to it. Vartan's athletic fielding on the boundary was of consistent brilliance. Almeley finished on 173 for 6 off 40 overs.
In reply, several CRG players made good contributions. Cardwell backed up his 36 not out in the Almeley innings with four wickets in CRG's innings, resulting in his receipt of a bottle of CRG "Roaring Forties" gin as Almeley's Man of the Match. Ollie Powell was nearly caught without scoring when he drove the ball hard through mid-off's hands. He went on to make 44 before being caught. Kit Byatt contributed a cultured 33. Vartan hit the ball high to what looked as if it might be a steepling six, but he was caught just inside the leg boundary.
On the last ball of the 31st over the 9th wicket fell on 172, with two needed to win. Last man Oliver Wise went to the wicket, relieved that James Powell was facing. James then finished the match by hitting the winning boundary. CRG had won by one wicket, for the first time by that margin in their history.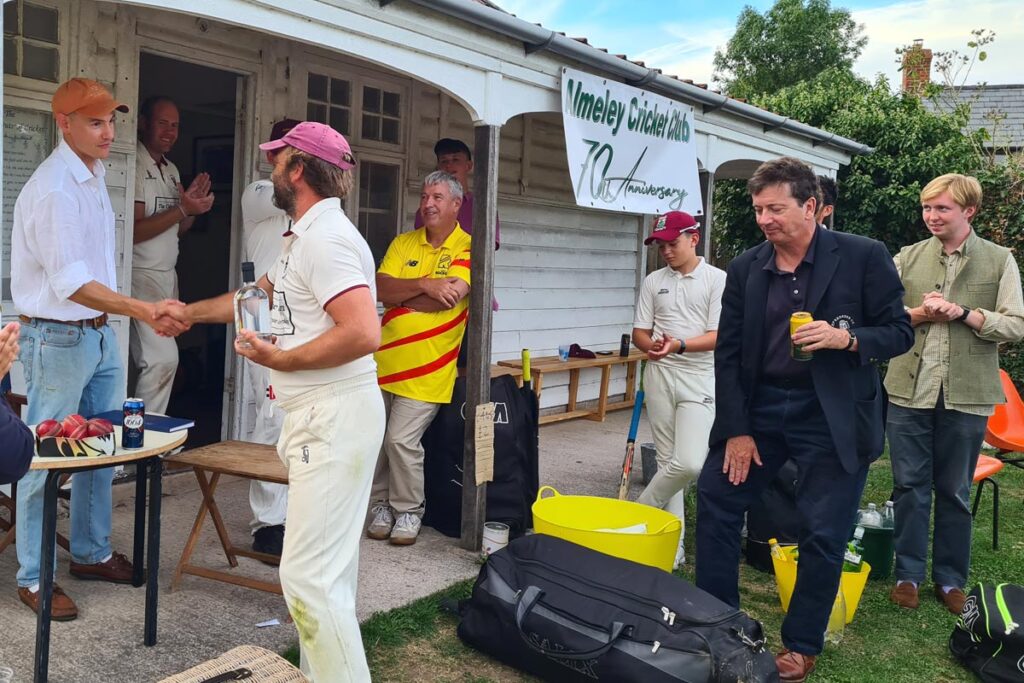 CRG thus won two out of three matches. The season was notable for the enthusiastic and successful involvement of the younger players; but it is pleasing to note that alone of the old stagers Charles Gallagher played in every match, and that his stylish batting at Almeley may well have made tipped the balance to achieve the win by one wicket.