The CRG 2016 cricket season produced some more enjoyable cricket, and the first example of a CRG batsman being called upon to face Test class bowling. Of that, more later. Our season began as usual with an indoor net at Lord's, generously sponsored by Magnus Eriksson.
The Chairman of the Cambridge University Pitt Club, George Wilders, issued the first invitation to the CRG for a cricket match and a dinner in 2015. Both were hugely enjoyable, and the fixture was repeated in 2016 at the Corpus Christi College Ground. It is a tribute to the sporting nature of the Pitt Club team – and perhaps to their greater commitment to their studies all year round, by comparison with the last weeks' anxious work of their quinquagenarian opponents in our Cambridge days – that the fixture takes place in May, followed by a fine dinner. Among the spectators were Constance Krarup; through whom the connection with the CRG was made, as Wilders is her boyfriend; and Simon Heffer, the well-known journalist and another Corpus man.
In a 30 over match, CRG batted first and were soon in trouble. Conor Gallagher was immediately dismissed without scoring by the South African bowler, Melville, a kinsman of the great Alan Melville, of Oxford University, Sussex and South Africa. (Alan Melville captained his country against England in 1938-39, when he made 78 and 103 in the timeless Test.) Bob Gibson was also dismissed cheaply. By contrast, the CRG middle order all made significant contributions: Charles Gallagher 16, Ollie Vartan 23, Edmund Krarup 35 and Magnus Eriksson 17. Edmund Krarup was continuing in the successful vein of the end of last season, when he made 55 against Jeremy Helme's Vagabonds. Eriksson was at his most commanding in making his top score for CRG. But 121 for 9 off the 30 overs was not a high total. It demanded a good performance in the field from CRG.
The young CRG bowlers, Philip Gallagher, Ollie Vartan, Edmund Krarup, Conor Gallagher and John Berry all bowled tidily, and kept CRG in the match. Philip Gallagher bowled particularly well, dismissing three of the first four Pitt Club batsmen. He bowled both Birch and the dangerous Melville, and caught and bowled Aurelien Gueroult. For a time it seemed that Clough, who made 38 with six fours, would win the game for the Pitt Club, but Berry had other ideas. Straight bowling from him brought two favourable LBW decisions from umpire Dick Cawley. With 5.5 overs to go, the last wicket fell, and CRG won by 8 runs.
The dinner that followed matched, perhaps even exceeded, last year's for its magnificence. Many different types of gin were drunk, many songs were sung and bonhomie was to the fore.
The second match was against a Hambledon Invitational XI at Broadhalfpenny Down. Following three losses in a row in this fixture, CRG needed to strengthen its team. One of the new CRG players, Jarrod Hill, who formerly played first grade cricket in Sydney, made an immediate impact. He bowled the first ball of the match, which seamed in to bowl Stanton. Hill took the important wicket of Humphrey Dettmer, who had made 141 not out in 2015: LBW for 10. Hill's eventual return was 4 for 35 off 14 overs.
Andy Campbell, bowling tidy off-breaks, took 5 for 28. But a 9th wicket partnership between Jay (46) and Watson (32 not out) changed the complexion of the game, and Hambledon declared before a late lunch, having made 227 for 9 off 38 overs.
After a delicious lunch, organized by Lois Bailey and Antonia Eriksson, with a fine barrel of Harveys Best Bitter, sponsored by Magnus Eriksson, the CRG batted with determination. Hugh Mathew-Jones opened with Sam Brock, who was returning to the CRG colours after many years' absence. Hambledon is usually a happy hunting ground for Mathew-Jones, where he has made 36 and 90. This year he was soon into his stride, and had hit five fours when he was caught for 23. Brock batted on, putting on 30 for the 5th wicket with Michael Stanes (15) and 40 for the 6th with Charles Gallagher (13). But when Brock had made 66, he too was caught and CRG subsided to 153 all out, giving Hambledon a win by 74 runs.
Many thanks are due to the Baileys and Erikssons for organizing a splendid fixture and producing a sumptuous lunch and tea.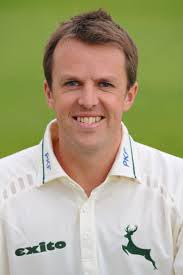 Our third fixture saw us back at the glorious setting of Althorp, the home of Charles Spencer. After a good deal of rain, the pitch was pretty damp. The home team batted first, in a 20 over match. Rory Macleay, who once captained the Eton Ramblers to win the Cricketer Cup, has an illustrious cricketing pedigree. However, it does not bear comparison with the other opening batsman, Graeme Swann, wearing his England cricket kit. Better known for his off-spin bowling, Swann, who retired from Test cricket in December 2013, scored four centuries in first class cricket. His top score in Test cricket was 85. Philip Gallagher and Harry Wise were undaunted by these class batsmen. Swann hit Gallagher for six in his second over, but could not score off the first three balls he faced from Gallagher's third over and was comprehensively bowled by the next ball, an in-swinging yorker, for 17. This was an unforgettable moment for this Philip Gallagher, aged only 15, who has not been properly recognised by the school cricketing authorities at Harrow, owing to illness in his first summer term.
The CRG captain, Bill Krarup, the third highest wicket-taker in CRG cricket, who had modestly looked to others to bowl, was eventually persuaded to put himself on. The last two balls of the innings gave Bill Krarup the wicket of Macleay, stumped for 67, and James Berry, another Eton Rambler, bowled first ball.
142 was a very good score on a wet wicket. Even with Graeme Swann refraining from bowling – he was behind the stumps – CRG never got into the game; only Bob Gibson (17) and Edmund Krarup (10) managed double figures. The 9th wicket fell at the end of the 19th over. With one over to go, and 75 to win, last man Oliver Wise arrived at the wicket, to be greeted by the sight of Graeme Swann taking off his pads and wicket-keeping gloves. "You are being honoured," said an Althorp fielder to the incoming Wise. Swann's heavily spun off-breaks bowled on to a damp pitch on a good length induced in Wise to aspire simply to survive. This he managed for four balls. The fifth was another sharply-spun off-break, pitched further up, bowled Wise. So ended the only bowling spell by a Test – or even a first-class – cricketer in a CRG match. Althorp won by 74 runs. After this overwhelming defeat, the team pulled itself together with more food and drink, provided in lavish quantities by Charles Spencer.
As usual, the season ended in Herefordshire. The Saturday game against Jeremy Helme's Vagabonds was played for the first time at Preston Wynne, as the Elms ground, the normal venue for this fixture in recent years, was unavailable. A 30 over match was agreed. Skipper Manns won the toss, electing to bat, and sending in two young new players, Will Clive and Paris Thomas, to open. Thomas was soon well caught by Jeremy Helme. Early on there was a significant shower, but the umpires did not take the players off. There was no alternative when a downpour occurred. Useful contributions had been made by Clive (whose 23 included a six) and Bill Krarup (18). Edmund Krarup was getting into his stride with 12 when play was halted.
When the rain stopped, there was a good deal of surface water around the batting creases. Most matches would have been called off in these conditions, but the Preston Wynne groundsman had given permission to play on a wet pitch, as this was the last fixture of the season at that ground.
Tea had been taken. Plainly, the match could not continue for another 42 overs. Oliver Wise was invited to set a Duckworth-Lewis type target in the context of CRG's 74 for 4 off 18 overs. His decision, accepted without hesitation by both captains, was to require the Vagabonds (who could use all their team) to score 75 in 12 overs.
It was not easy to bowl with a wet ball on a sodden wicket. Philip Gallagher had particular difficulty in releasing the ball when bowling. Nor was it easy to bat, as Mike Hacking illustrated when, preparing to take strike, he tumbled over at the crease. The pick of the batsmen was William Helme, who rode his luck with aerial shots – a reasonable move given the slowness of the outfield – until well taken by a running catch by Edmund Krarup off Oliver Wise, who was bowling round the wicket to avoid the puddles. Manns asked Wise to bowl the final over, with three wickets down and seven runs to win. With one ball to go, all results were possible: one to tie, two to win. The ball was struck hard to the CRG man posted at extra cover, saving one. It was missed, and Cross and Hacking scampered two, to achieve a thrilling victory for the Vagabonds.
On Sunday the weather improved and a 35 over game was played at Almeley. This fixture traditionally ends the CRG season. CRG again batted first. Edmund Krarup, who opened with Gibson, made a confident 44. The pick of the batsmen were the Salopian John James, making his CRG debut, who hit four sixes; and James Powell, who hit six sixes. In accordance with the captains' agreement, they both retired on 53, each having just brought up his 50 with a boundary. Eriksson produced a cultured 16 not out, his second highest score in his CRG career. CRG posted an imposing 193.
Bowling in friendlier conditions than the previous day, Philip Gallagher did very well to take the first wicket and to concede only 19 off his allotted 7 overs. His father, Charles, also improved his fielding from the previous day, bringing off a fine running catch at square leg to dismiss Hill, the Almeley number four, for a duck; and following it up by almost catching a full-blooded hook. Good support bowling came from Edmund Krarup, Toby Whittall-Williams and John James.
Almeley were always behind the asking rate and, with 4 overs to go had reached 146 for 3; plenty of wickets in hand, but 48 still wanted, at a rate of 12 per over. Then Bradshaw launched an assault. 13 came off the 32nd over. Another 13 off the 33rd. Now 22 were needed from 2 overs and at this rate Almeley could take the match. James then conceded only three runs from the penultimate over. 19 runs were needed from the last over, bowled by Powell: only two were scored. CRG had won a close match by 16 runs.
As ever, the CRG are most grateful to Noel and Nienke Manns, who organized the Herefordshire weekend and provided a delightful supper in Llangrove for those who could manage to stay.
The CRG had played much enjoyable cricket in 2016. The two victories were by close margins; the defeat by the Helmes Vagabonds was decided on the last ball of the last over.
And finally, a footnote, but an important one. The 2016 season saw a welcome change of form for Magnus Eriksson. He had failed to score in either of his two CRG innings in 2015. This year Eriksson produced the two highest scores of his CRG career in the 2016 season, during which he celebrated his 58th birthday, thus regaining his place in the CRG batting averages, above the legendary Eoin Slavin. Eriksson's enthusiasm in the field is as great as ever. Although 2016 was a year in which CRG continued the trend of depending increasingly on the younger generation of players, one feels that from this CRG stalwart, the best is still to come.