CRGCC vs Althorp CC
Monday, July 16th, 2018
What would a current county cricketer, who once held the world records for fastest hundred, highest individual score and most sixes in a T20 international, do on his Sunday off? Test himself against the might of the CRGCC, of course.
Richard Levi shot to prominence in his second T20 international, hitting 117 not out against New Zealand in Hamilton in 2012, including a 45-ball century and 13 sixes. That 45-ball century lasted 5 years as a record, until eclipsed last year by David Miller and Rohit Sharma.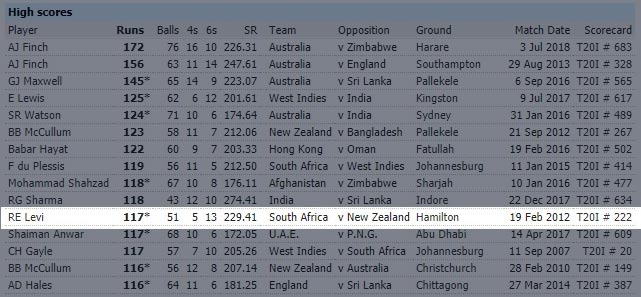 That CRGCC contained him to a 'mere' half century reflects considerable endeavour on our part, though it's fair to assume that he faced nothing quite like Conor Gallagher's doodlebugs at Hamilton.
Readers of the CRGCC cricket reports will know that in 2015 and 2016, this fixture was graced by Graeme Swann, in 2011 rated the number 1 bowler globally in ODIs, and number 2 in Test cricket.
Little wonder, therefore, that CRGCC has had the worse of the series over the past 5 years. We understand that the fixture is unlikely to be repeated in the foreseeable future as the cricket ground is put to alternative use. So it is appropriate to look back over the past 5 years, to consider the extraordinary fun and fellowship that we have enjoyed, and to thank Earl and Lady Spencer and all their staff for their hospitality and kindness, as well as James Berry and our own Bill Krarup for organising the fixture.
Details of the game will appear eventually in the 2018 CRGCC report. Suffice to say that the perpetual challenge cup did not change hands. At the end of the match, Bill Krarup invited Earl Spencer to become an Honorary Member of the CRG, presenting him with a CRG 40th anniversary tie. In return, Earl Spencer awarded Bill one of Althorp's coveted caps.
CRGCC vs Althorp CC 2018 (Click any image to open slideshow)