The CRG 2014 cricket season produced some excellent, competitive cricket. Our traditional net at Lord's, generously sponsored by Magnus Eriksson, dusted off some cricketing cobwebs and, as well as the usual batting and bowling, enabled Keith Hornby to show off his wicket-keeping prowess.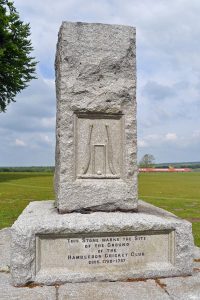 Our first match at "the cradle of cricket", Broadhalfpenny Down, was eagerly anticipated. Last year it produced 469 runs, and was notable in particular for the highest ever score made by an individual batsman against the Campaign (Danny Rowland's 163) and for CRG personal bests by Noel Manns and Magnus Eriksson, with CRG losing by 77 runs.
This year the game went down to the wire. Morgan Sirikanda who opened the bowling with Simon Goodfellow, just failed to take what would have been a fine catch off his own bowling off the second ball. In doing so, he injured a finger and, although he completed his over, had to go to hospital and took no further part in the match. Fortunately, the captains, Tom Bailey and Oliver Wise, had agreed that 12 CRG players could participate in the match.
Humphrey Dettmer, who made 80 last year, was well caught by wicket-keeper Keith Hornby down the leg-side off Richard Wyse's bowling. Goodfellow worked up a fair pace and took 3 for 25, all bowled. Goodfellow was also responsible for the day's "champagne moment": his full-length diving one-handed catch in the gully dismissed last year's centurion, Danny Rowland, for a duck. Richard Wyse finished with 4 for 40 and Oliver Wise 2 for 20. Andy Campbell's probing spin-bowling induced several false strokes, but no wicket until the last man was caught.
The CRG could be well satisfied with bowling out Hambledon for 142.
In an all-day game, CRG had plenty of time to get the runs. Hugh Mathew-Jones and Charles Gallagher opened the batting and faced high quality seam bowling. Humphrey Dettmer's first 4 overs conceded only 2 runs; George Clarendon's first 4 overs were all maidens.
Batting was hard work. At 92 for 7 Goodfellow was distracted when a Hambledon fielder unwittingly walked behind the bowler's arm at the point of delivery and he was adjudged LBW. This brought in the evergreen Richard Wyse, who played for Middlesex 2nd XI in the 1970s, to join the doughty Mathew-Jones, the only CRG batsman to get into double figures.
Hambledon had some easier bowlers on and they were able to take the score to 132 for 8 when Mathew-Jones became Acton's third LBW victim for a most gallant 90. Last man Oliver Wise joined Richard Wyse with 11 required to win. Wise's 4 off the last ball of the over left Wyse facing the recalled Humphrey Dettmer with 7 to win.
The first ball was a superb off-cutter which bowled Wyse. Hambledon had won by six runs, with Acton taking 6 for 28. It was a highly competitive match, on a day of fluctuating sporting fortunes, somewhat echoed in the FA Cup final that day.
Sadly, CRG could not match Arsenal's success in conjuring a win after going two goals down in the first ten minutes.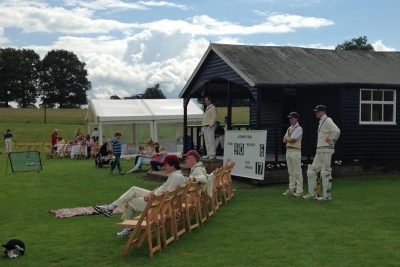 Our second fixture was on a beautiful sunny day in the charming setting of Althorp, the home of Charles Spencer. It was a 20 over match. Against a strong side, CRG brought in Mark Tovey, Charlie Krarup and Tim Day, and all three made good contributions with the bat.
Tovey and the ever-reliable Hugh Mathew-Jones put on 54 for the first wicket, at which point they were both dismissed. Charlie Krarup's 23 (two sixes) matched Tovey's score. At the end of the innings Day was 17 not out and Simon Goodfellow 11 not out.
CRG's 116 for 6 was a reasonable, if not imposing, total.
Tight bowling from Goodfellow (1 for 9 off 4 overs) and Charlie Krarup (1 for 13) put Althorp well behind the required rate. This was despite the determined batting of the opener, Rory McLeay. Here is a club cricketer of distinguished pedigree, who represented Durham University and Hong Kong, made the Eton Ramblers' top score when they won the final of the Cricketer Cup in 1992, hit 46 not out for Sir Paul Getty's XI against the touring West Indian team in 1995 and captained the Eton Ramblers to victory in the final of the 2001 Cricketer Cup. McLeay was hard to dislodge, but unable to dominate the CRG bowling: he was eventually caught by Charlie Krarup off the bowling of Bill Krarup for 29.
The finest moment in the field was when Noel Manns caught Duncan Kennedy at midwicket from a hard, low on-drive. With acceleration desperately needed and wickets in hand, Charles Spencer came on to the field with a pair of batting gloves to urge on the batsmen. Althorp started to hit out. With one over to bowl, and having run out of front line bowlers, the CRG captain, Bill Krarup, called on Oliver Wise to bowl the last over with 5 to win and two able batsmen at the wicket. Althorp won the match with a six off Wise's third ball. CRG consoled themselves with the usual gin and tonic and an unusually superb tea.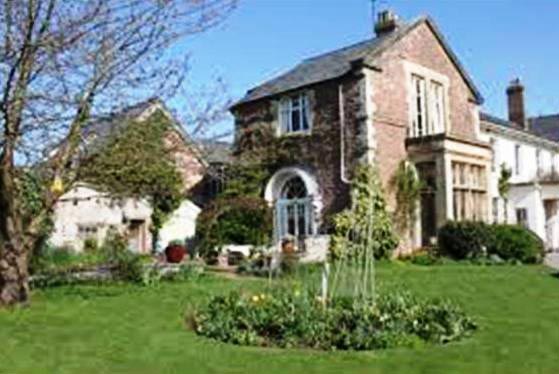 And so to Herefordshire. 2014 may be the end of an era, because it looks as if Bill and Christine Reeve-Tucker, who have run so delightfully Glewstone Court, the CRG's longstanding choice of hotel, are to sell.
With dark clouds threatening, the long-established match against Jeremy Helme's Vagabonds was limited to 30 overs rather than, as last year, 35. Once again we played on the attractive 1st XI ground at the Elms prep school.
CRG batted first. Hugh Mathew-Jones again opened and made a major contribution: 29, before he became the first of three run-outs. James Powell appropriately celebrated his recent appointment as a hospital consultant at the age of 32 with 32 runs, and Edmund Krarup made 36. For the Vagabonds James Hacking took three wickets with his spin, helping to restrict CRG to 149 for 7. Fortunately there was barely a drop of rain.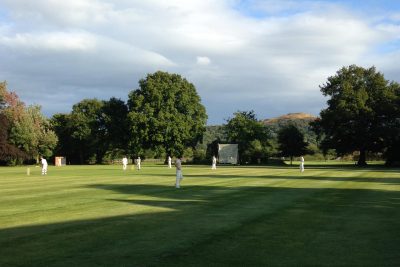 James Hacking also opened the batting. Although he had to contend with excellent swing bowling from Edmund Krarup (1 for 22 from 6 overs) and Philip Gallagher (0 for 17 from 6 overs), which caused a few false strokes, his batting became more assured. Connor Gallagher, guesting for the Vagabonds, and Willson went cheaply, but in spite of decent support bowling from Michael Hosford-Tanner and Harry Wise, the Vagabonds were left with 8 runs required, 8 wickets in hand, and plenty of overs left.
Skipper Noel Manns threw the ball to Oliver Wise. James Hacking smashed the first ball of Wise's over for 4 to bring up his hundred. He then charged Wise's slower ball, and was bowled. Snow came in and hit the next ball for 4, securing the win.
In earlier years CRG tended to be the stronger side, but it is noteworthy that from 2010 to 2014 the Vagabonds have three wins to CRG's one, with one match abandoned because of rain.
With showers forecast, the Almeley fixture was also restricted to 30 overs. CRG opened with their best batsmen: Ollie Powell and Hugh Mathew-Jones. Ollie was missed from the Vagabonds match. He is now a pupil barrister who will shortly be taking up a tenancy in Harcourt Chambers. The openers did not disappoint, putting together a cultured partnership of 68 before Mathew-Jones was LBW for 36. Ollie Powell's 45 was the top score; but a most sprightly stand took place between Bill Krarup (35) and Noel Manns, who retired hurt for 17 with a groin strain after going for a rare second run. CRG closed on 184 for 7.
With Manns unable to field, but with 11 fielders available, Bob Gibson took over the captaincy. Gibson was well served by the young medium pacers he trusted as his first four bowlers. Edmund Krarup took 1 for 16 off 4 overs. The other three each bowled six overs; Philip Gallagher taking 2 for 30, James Powell 0 for 13, and Harry Wise 3 for 24. All made good use of the new ball, exercising a high measure of control. Two difficult catches were taken at extra cover by Ollie Powell, particularly the first which removed the threatening Thorne. Only at the end of the fourth over were Almeley up with the required rate and that was at the expense of Conor Gallagher's crucial wicket, when he got Priday caught behind by Gibson. CRG won by 40 runs.
Many thanks are due to Noel and Nienke, who organized the Herefordshire weekend and entertained those who could stay late on the Sunday evening to a magnificent supper. We hope to return to Glewstone Court next year.