The CRG 2017 season had only four matches, rather than the usual five, as it proved impossible to arrange an available date for the Pitt Club match; though happily this fixture continues in 2018. But the four matches were enjoyable and included some "champagne moments". Our season began as usual with an indoor net at Lord's, generously sponsored by Magnus Eriksson.
Our first match was against a Hambledon Invitational XI at Broadhalfpenny Down. Following four losses in all four matches to date at Hambledon, on winning the toss, Oliver Wise broke with tradition and elected to bat on a hot day.
This year Oliver could call on some able younger players. Tom Shepherd, formerly of the Eastbourne College 1st XI and a fast-bowling all-rounder, opened the innings with Bob Gibson. Shepherd was fortunate to survive an early LBW shout but less fortunate with the next ball and was dismissed without scoring. This brought in Sam Brock, the late Jonathan Brock's elder son, who had top-scored with 66 in last year's Hambledon match. Sam was soon bowled for 5. Coming in second wicket down was Harsha Boralessa, who twice opened for Harrow at Lord's in the 1980s. Boralessa played one match for Essex 2nd XI and thus was the first professional cricketer to represent CRG. He was promptly bowled for a duck. That made CRG 5 for 3.
Gibson (15) and Gallagher (5) steadied the ship a little. After they were dismissed Matt Brunsdon-Tully and Graham Hyland saved the day. Brunsdon-Tully hit a six and seven fours in his 44. Graham Hyland, who had not played cricket for 35 years since his days in first grade cricket in Tasmania, is still a professional sportsman. He won two open major titles at real tennis – the US Opens of 1981 and 1987. He had not had a net and took a long time to play himself in. But his class showed and, having come in at the fall of the 4th wicket, he was 60 not out when the last wicket fell. CRG were all out for 196; the second highest score being Extras on 46. Humphrey Dettmer took 4 for 24 and Sykes 3 for 32.
Tom Shepherd more than made up for his failure with the bat with his fast bowling. He dismissed Stanton, the opening batsman, and Tom Bailey the number 3 for ducks. Watson was beautifully caught at slip by Hyland off Harry Wise for 5. After the dangerous Humphrey Dettmer had been bowled by Shepherd after making 9 in quick time, Sykes and Stirling-Aird settled down for a substantial partnership. Sykes's 67 included two sixes and ten fours, before he was bowled by Hyland. Stirling-Aird's 38 included five fours. While they were together, another Hambledon win looked on the cards, but when Shepherd was brought back for his second spell he ran through the tail. CRG won the match by 50 runs. Shepherd's return of 7 for 24 off 8.3 overs was the first seven wicket haul by either CRG or its opponents in CRG history.
Many thanks to Lois Bailey and Antonia Eriksson for a superb lunch and tea (and not forgetting the fine barrel of Harveys Best Bitter, sponsored by Magnus Eriksson.)
Our second fixture saw us return to Althorp, the home of Charles Spencer. Unfortunately, Graeme Swann, the former England spinner, had to withdraw from the Spencer XI. The home team batted first, in a 20 over match. Neate made 104, before he was stumped, out of 181 for 2. In response Hector Berry opened with a cultured 44, but CRG were always behind the asking rate. Our opponents' leading wicket-taker was Lieutenant-General Mark Carleton-Smith who took 3 for 9 off his three overs. Carleton-Smith has since been appointed head of the British Army. Spencer's XI won by 89 runs.
A splendid tea ensued. What appeared to be a huge, covered-over trophy sat on a table awaiting Captain Bill Krarup's presentation to our host. Uncovering revealed a tiny cup, but the presentation was well received, and Krarup's speech capped a memorable day.
As usual, the season ended with the August Bank holiday tour to in Herefordshire. The Saturday game against Jeremy Helme's Vagabonds was played again at Preston Wynne. A 30-over match was agreed. The Vagabonds batted first with both openers retiring soon after passing 40. All the Vagabond batsmen played aggressively, and the side amassed 233 for 7 from their 30 overs. Oliver Wise took 6 for 74 off his nine overs, which included being on a hat-trick.
In reply, Bob Gibson (27) and Charles Gallagher (25) opened steadily, but CRG, who could muster only eight batsmen, were all out for 119 off 27.3 overs.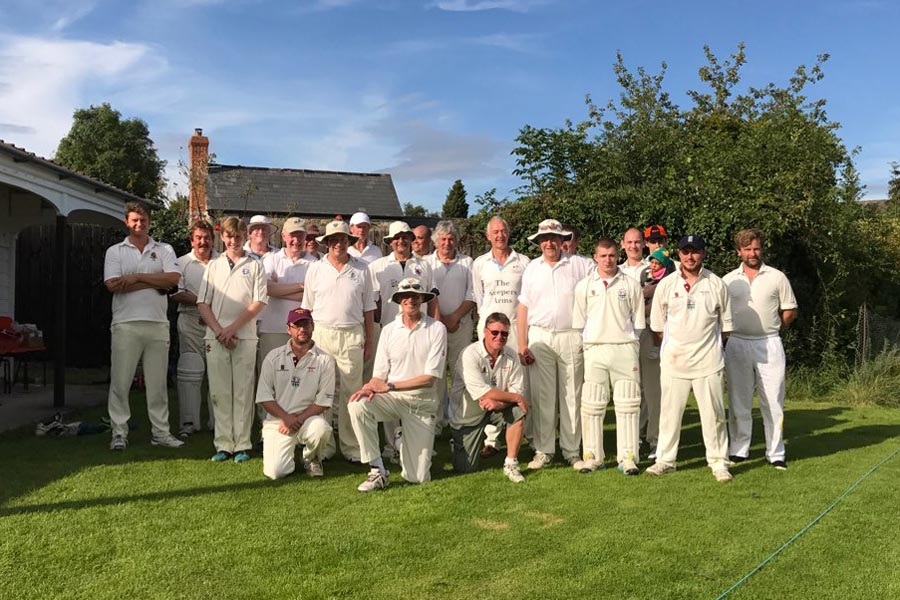 Next day's Almeley match was played over 35 overs. Important contributions were made by the Emerys, who scored 31 not out and 26, by James Powell (27) and by Magnus Eriksson, who made easily his best score of 28. Eriksson's innings included three fours. He batted with calculated aggression. However, 150 for 9 was not nearly enough to challenge Almeley. Osborne retired on 51, and the CRG bowlers were unable to take any wicket. The runs were knocked off by Chibnall-Smith and Evans; Almeley winning by 10 wickets with 13 overs to spare.
As ever, the CRG are most grateful to Noel and Nienke Manns, who organized the Herefordshire weekend and provided a delightful supper in Llangrove on the Sunday evening.