The 2019 season was a most memorable one for English cricket, with England sensationally winning the World Cup Final at Lord's, after the scores finished level, both after the teams' 50 overs and at the conclusion of the "Super Over". The Test series against Australia fluctuated greatly, finishing two-all.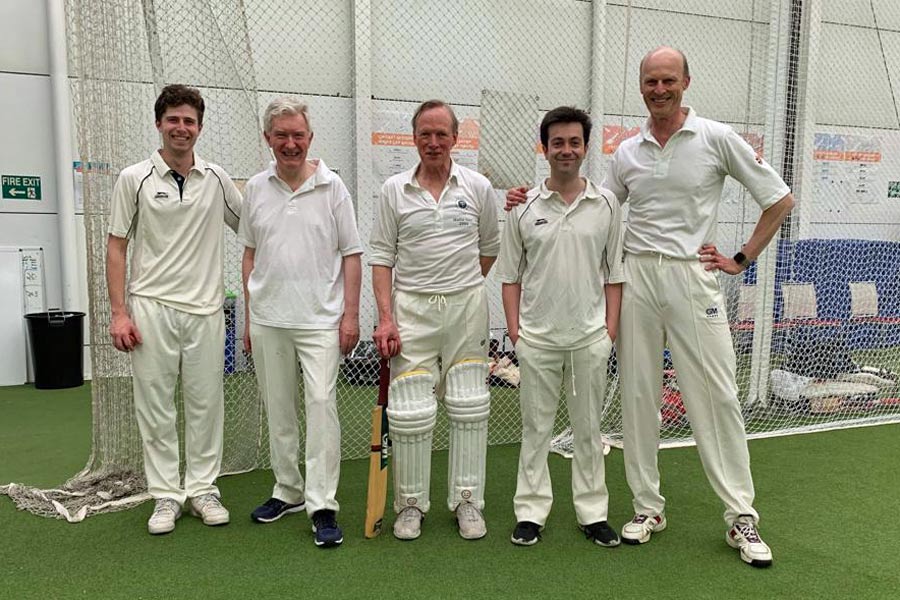 The CRG season was a quieter affair, with less cricket than in recent years. Our season began as usual with an indoor net at Lord's, generously sponsored by Magnus Eriksson.
The first match against the Carthaginians was on 11 May at Leckhampton, the Corpus Christi College ground in Cambridge. CRG were captained by Edmund Krarup, now a commercial executive with the Cricketer magazine, to whom the author is grateful for his assistance with this report. In previous years CRG have played against the University Pitt Club; but, as players have graduated, the fixture has now become against the Carthaginians CC, this year under the captaincy of a familiar opponent, sixth-year medical student, Aurélien Guéroult.
The Carthaginians batted first, with Philip Gallagher opening the bowling for CRG. He started with a tidy maiden, bowling with control and ever-increasing pace, with the skiddy action and ability to swing the ball that brought him the wicket of Graeme Swann in 2015. In the second over, bowled by John Berry, the Carthaginian opener was run out without troubling the scorers (Jacqueline Krarup and the Bottletop). 0 for 1 after two overs.
The Carthaginians continued to bat tentatively on a slow wicket. Persistent rain in the week leading up to the fixture meant boundaries were hard to come by, an ominous sign perhaps for CRG's innings.
Rupert Thompson settled in for the Carthaginians, but Richard Assheton, Milo Walker and Conor Gallagher all picked up wickets. Ed Penney, son of CRG stalwart Charles, batted well and kept the tally moving. Penney was originally pencilled in to play for CRG, but once the Carthaginians heard of the availability of this pedigree cricketer, they laid claim to him as a current Pitt Club member. Penney was out caught and bowled for 27 by Edmund Krarup, and with his next ball Krarup bowled George Wilders, who was the Pitt Club member originally responsible for instigating this fixture. Wicketkeeper Bob Gibson called Krarup's hat-trick ball "the most underwhelming he had ever seen".
Assheton showed the value of bowling straight, taking two more wickets with his quick left arm seamers. The Carthaginians finished their allotted overs (including an unintended 26th over) on 115 for 8, with Matti Thal making their top score of 29.
Ollie Vartan and Nicholson opened the batting for CRG. Vartan pinged the first four of the innings back over the bowler's head, but soon after was caught off the bowling of Alistair Benn. Nicholson also departed early, bowled by Wilders.
Assheton's experience of playing on dry, dusty wickets on the subcontinent for journalist Peter Oborne's Wounded Tigers XI would not have been particularly useful preparation; but he and Charles Gallagher put together a useful partnership.
CRG were slightly behind the rate at the halfway stage but, importantly, had wickets in hand. James Powell gave the innings a much-needed boost, with his boundaries edging CRG closer to the target. Wilders, now bowling with fire and a point to prove after his own dismissal, scattered Powell's stumps when he was on 19. Incoming batsman Edmund Krarup and Gallagher ran hard and kept the Campaign in touching distance of victory, but Gallagher was then bowled by Penney and Gibson bowled by Benn.
Through a stitch-inducing number of singles and twos, Philip Gallagher and Edmund Krarup took the game to the last over, to be bowled by Drew. 12 were needed. Krarup hit two off the first, then three off the third. Philip Gallagher carved the fourth ball into the gap behind point. On a drier day this would have sped to the boundary, but a scampered three was their only reward.
Four to win off two. Krarup swung unsuccessfully, which left still four to win off the last. He managed only a thin edge to the wicket-keeper, dismissing him for 26. The Carthaginians thus won by three runs in another thrilling encounter. As ever, gin and cricket were the winners in equal measure; and the bonhomie and friendship were further cemented at a magnificent dinner in Jesus Lane that evening.
As usual, the season ended with the August Bank holiday tour to Herefordshire. The Saturday game against Jeremy Helme's Vagabonds was played again at Preston Wynne. A 25 over match was agreed between Helme and CRG captain James Powell. Fearful of rain, the captains agreed that wides be allotted two runs, with no extra ball, until the final over of each innings. Batsmen had to retire at 30. The Vagabonds batted first. Mike Hacking usually does well in this fixture; this one was no exception until he was run out for 23. Then both F. Jones and Lancaster reached 30, before retiring. James Powell bowled only fourth change, but took four wickets in his three overs. The Vagabonds finished on an imposing 141.
CRG opened with Charles and Conor Gallagher. Accurate bowling got CRG behind the clock. A late flurry from Ollie Powell (retired 30) and Scott Armour (23) gave some hope to CRG. James Powell decided to address the matter by promoting Noel Manns above himself, with only a few balls to make an impression. The Vagabonds won by 9 runs.
Sunday 25th August 2019 was an historic day for English cricket. CRG were strengthened by reinforcements: medical, a New Zealand pharmacist – and William Harding, as usual arriving late. A 40 over match was agreed, but thanks to some excellent bowling by Walker, who returned the second best ever CRG bowling analysis of 7 for 38, including a memorable caught and bowled and five bowled, Almeley were dismissed for 120 in 32.3 overs. Walker was well-supported by both Prestons and William Harding.
This brought an early trip to the Bell Inn for tea. On arrival at that pub, the teams found that Leach had just joined Stokes for the last wicket in the Headingley Test, with 72 needed to win. Both teams settled down to listen to Test Match Special. No one could bear to leave as England stayed in, both teams listening with increasing excitement and incredulity. Could the match be won and the Ashes remain live? Emphatically yes: Stokes' 135, the last wicket partnership and the match will be remembered as long as Test matches are still played.
Back in Herefordshire on the field of play, fine bowling by the Almeley openers Pearce (2 for 16) and Goodman (2 for 24) kept Almeley in the match. Coming in with CRG four wickets down, Preston's 18 steadied the ship. There ensued an undefeated partnership for the 7th wicket: the Kiwi Black's 32 not out included three sixes; he and Walker (11 not out with one six) saw CRG home by four wickets, with 13.3 overs to spare.
Two matches were narrowly lost in the CRG season, but one emphatically won. The successes of the younger players give some hope for the future of CRG cricket.
Oliver Wise