2020 was not a good year for cricket. For the first time since 1967, the author of this report was unable to attend a first-class cricket match. CRG cricket was confined to the August Bank holiday tour to Herefordshire, when both matches were lost. Much better was hoped for in 2021, and although again, a May net at Lord's was impossible because of Covid restrictions, CRG was able to field teams for three matches.
We began on the last day of July in Cambridge. A late change of venue took us to the St. John's College Ground, shared for many years by Magdalene College. Previous St John's College XIs adorn the walls, including three England captains from post-war Ashes series, F.R. Brown, N.W.D. Yardley and J.M. Brearley. No one of such cricketing class was to be found among the CRG or their opponents, the Carthaginians, members of the Pitt Club mostly no longer in statu pupillari.
The Carthaginians batted first in a 30 over game, with the Gallagher brothers opening the bowling for CRG and captain, Edmund Krarup keeping wicket. An early catch taken in the deep was eventually called a no ball – for height, which was something of a problem for Conor Gallagher. James Powell (2 for 30) and Ollie Vartan (4 for 42) were the pick of the bowlers, with Sam Robson scoring 111 not out, including 4 sixes, in a total of 210 for 8. The next highest scorer was Mr Extras' 33.
Tea was a splendid affair, organized by the groundsman and his wife. It had the necessary effect on the CRG batsmen. Vartan (56) and Powell (89) were the top batsman as well, putting on 183 for the first wicket after 24 overs, also with substantial support from Mr Extras. But they fell, and Bill Krarup for 4. With one over to go, bowled by Thal, the scores were level. No runs were conceded off the first three balls, but on the fourth, umpire Charles Gallagher called a wide. CRG won by 7 wickets with only three balls to spare.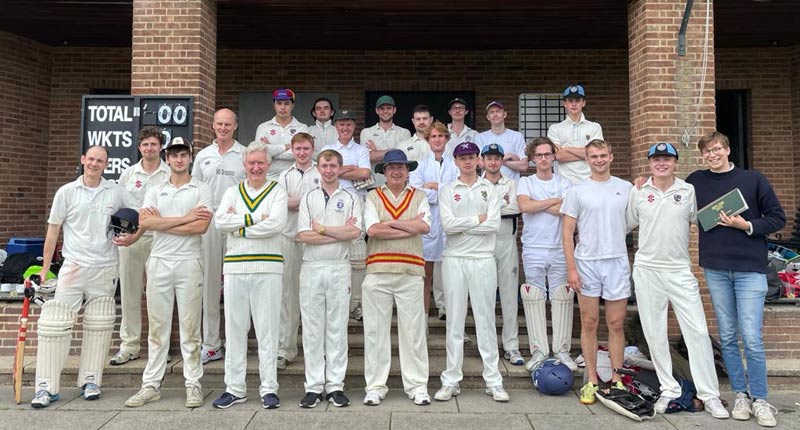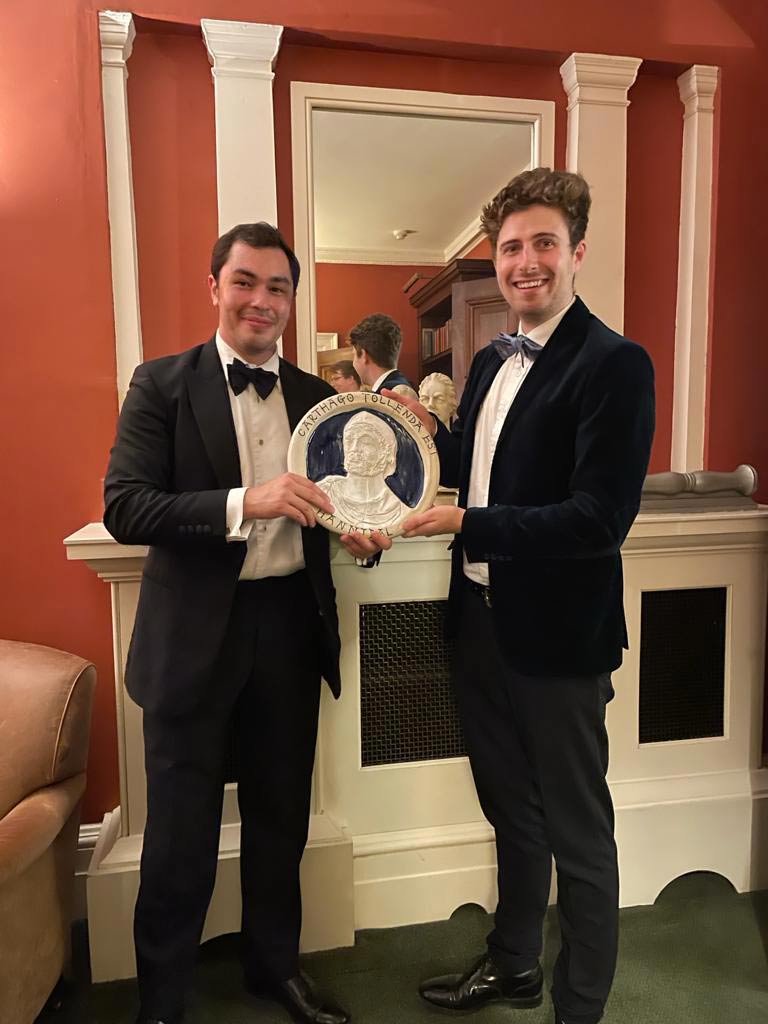 A fine dinner followed at the Pitt Club. For the first time ladies were invited and their inclusion was a great success. It was a special privilege to be able to welcome Jacqueline Krarup, the CRG skipper's mother. The distaff side was all the more important because Constance Krarup, who also attended deserves much of the credit for this fixture, because her boyfriend George Wilders, was responsible for creating this fixture when he was a Corpus Christi undergraduate. He made 3 not out and bowled five economical owners in this match.
And so to Herefordshire. The Saturday game against Jeremy Helme's Vagabonds was played at the Mynde, Much Dewchurch. We were kindly hosted by Richard and Sarah Burt, for a fine tea and an excellent barbecue.
This was a 30 over match, with CRG batting first on a pitch where the ball generally kept low, but sometimes bounced high. The best batting came from two of the younger players: Conor Gallagher, who opened and after retiring on reaching 30, went in again and made 42 not out; and Ed Krarup who scored 31. Skipper James Powell, who had batted so well in Cambridge put himself in last. CRG mustered 166 for 8.
In reply, Richard Burt batted particularly well before having to retire, and Philip Gallagher was the pick of the CRG bowlers, with 3 for 18 off his six overs. The Vagabonds were always behind the asking rate and at the end of the 30 overs were 135 for 8. CRG won by 31 runs.
The final fixture of the season, as ever, was at Almeley, who batted first. CRG bowling was very economical. Philip Gallagher was again our leading bowler, with 4 for 8 off his six overs, two bowled and two leg-before. Dr Dua did not take a wicket with his spinners but had the highly impressive analysis of 7.4.15.0. Another good doctor's contribution was by Ollie Penney who removed Griffiths the Almeley number 3 when he was starting to look dangerous. However, the most memorable CRG moments were of James Powell sprinting round the outfield to take a catch and Noel Manns diving forward to take a low catch – both well above normal CRG standards. Almeley stalwarts Digger Duggan (37) and Richard Williams (31 not out) took Almeley to 126 for 9.
CRG required 27.1 overs to knock off the runs, for the loss of 7 wickets, with Penney making 29, Ed Krarup 36 not out and Ollie Vartan 23. Ollie Powell, our leading batsman, was held in reserve, coming in at the fall of the 7th wicket and making 1 not out.
CRG thus won all three matches in 2021: the first with three balls to spare, the second by 31 runs and the third by three wickets. It is pleasing to recall a clean sweep in such competitive and friendly games, with much fine play from the younger generation.