The CRG 2015 cricket season produced some excellent, competitive cricket. Our traditional net at Lord's, generously sponsored by Magnus Eriksson, took place on 28th April, which was the earliest date in the year we had ever held it; but that was required as we had two fixtures in the next three weeks.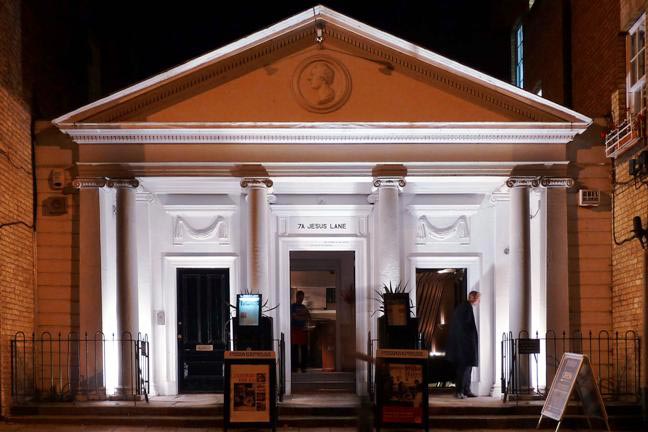 The CRG Hon. Statistician (Oliver Wise) and the CRG Bottletop (Tony Trace) are both life members of the University Pitt Club, Cambridge, which is named in honour of William Pitt the Younger. The recent connection with this club is that its Chairman, George Wilders, has the honour of being the boyfriend of Constance, only daughter of Bill Krarup, famed inter alia for his role as publisher of Wisgin Cricketers' Almanack. This happy situation brought about a challenge to play at the Corpus Christi ground in Cambridge. A 30 over game was agreed and CRG batted first.
After some tidy Pitt Club bowling, with the openers falling cheaply, Ollie Powell was fortunate to be dropped in the covers after a prolonged juggle early on in his innings. He went on to make a fine 63, with 13 fours. Mr Extras contributed 43, Bill Krarup 25, Edmund Krarup 16 and Oliver Wise 15 not out.
After an excellent tea, the Pitt Club opened with Winchester and Grace (a direct descendant of W.G.), who put on 54 for the first wicket.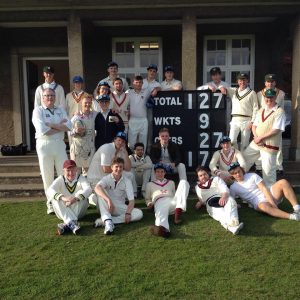 At this point Simon Goodfellow was brought on to bowl and dismissed both openers and George Wilders in his first two overs. The balance of the match turned.
The CRG bowlers did well as a unit, contriving to bowl eight batsmen and to share the honours: Harry Wise took 1 for 28, Ollie Powell 1 for 29, Edmund Krarup 1 for 19, Simon Goodfellow 3 for 16 and Mike Capewell 2 for 24. The final wicket fell with six overs left, CRG winning by 52 runs.
The dinner was a sheer delight. The Pitt Club is in much better internal condition than 35 years ago and it lives up to its best traditions. We were joined at dinner by the Bottletop and were provided with a magnificent range of gins to drink.
The post-prandial entertainment contained much good singing by both teams and the reading of some intriguing minutes of the Crabs, including a report of the undergraduate exploits of Bill Krarup when he was its President.
The willingness of our opponents to play and to entertain us so shortly before the demands of Tripos reflected great credit on them.
Our match at "the cradle of cricket", Broadhalfpenny Down, was a topsy-turvy affair. CRG were short of bowlers because Laurie Brock had injured his shoulder playing fives a few days before and because Richard Wyse's car sustained a puncture en route to the match.
The bowling responsibilities were mainly shouldered by Harry Wise (5 for 67), Michael Hosford-Tanner (4 for 56) and Andy Campbell (1 for 41). CRG had problems with their catching: nine of the dismissals were bowled.
The inexperienced Hambledon umpires tended strongly to avoid raising their fingers or extending their arms: resulting in CRG's favour that not a single no ball was called despite the lofty height of certain balls, and in there being only three wides. What appeared to be strong grounds for a stumping dismissal and several good LBW shouts were turned down. The only Hambledon batsmen who troubled the scorers were Humphrey Dettmer with 141 not out, including five sixes; George Clarendon, who made 62; Stirling-Aird (5) and Crowe (3); the other seven batsmen making ducks.
The imposing total of 228 was made off 38.2 overs.
In reply, Hugh Mathew-Jones and Charles Gallagher put on 46 for the first wicket. They were two of the four CRG batsmen adjudged LBW. Contributions were made by Mathew-Jones (36), Richard Wyse (32), Andy Campbell (20), and Adrian Wentworth-Stanley (14). The match ended when Humprey Dettmer, fielding at silly mid-off, caught a hard-hit off drive from Campbell, giving the match to Hambledon by 45 runs.
Many thanks are due to the Baileys and Erikssons for producing a wonderful lunch and tea.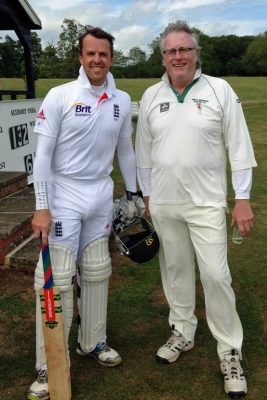 Our third fixture was in the glorious setting of Althorp, the home of Charles Spencer. On arrival, the CRG team was astonished to discover Graeme Swann, wearing his England cricket kit, changed and ready to play against us.
Swann, who retired from Test cricket as recently as December 2013, is by a wide margin the finest cricketer to play against CRG. In the author's view he was the best England spin bowler of the past 30 years and also a very fine close fielder. He was a good enough batsman to have scored four centuries in first class cricket and to have a top score of 85 for England. His presence in the Althorp team may be explained by Charles Spencer being a patron and past president of the Northamptonshire County Cricket Club, Swann's first county.
CRG won the toss and elected to bat in a 20 over match. Kit Goodfellow made up for his golden duck against Althorp in 2013 by hitting 64 in 69 minutes. He was well supported by Duncan Graves, who scored 31.
Graeme Swann did not bowl: the condition of his elbow prevents him from his past major role, but he kept wicket athletically and Charlie Krarup, Duncan Graves, Harry Wise and Charles Gallagher had the honour of being caught by him.
CRG posted the decent score of 132 for 6 in 20 overs.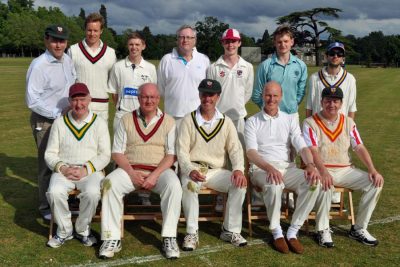 Swann opened for Althorp. He was clearly out of practice but still well able to build an innings and to place the ball well. On reaching 50, he started to loft catches and was well taken by the CRG skipper, Bill Krarup at long off for 55 off the bowling of Kit Goodfellow.
When the 20th and final over of the Althorp innings began, bowled by Charlie Krarup, Althorp needed two to win. A single brought James Berry on strike.
A fine club cricketer, Berry was in the Eton XI for three years in the Matthew Fleming era and a stalwart of the Eton Ramblers in the Cricketer Cup. Berry was unable to score for the next three balls, giving CRG the hope of a tie; but on the penultimate ball of the match, with the field up, Krarup was despatched to the boundary, leaving Althorp the winners by 7 wickets. A delicious tea was then provided. Many thanks are due to Charles Spencer for his hospitality.
As usual, the season ended in Herefordshire. It was a beautiful day for the match against Jeremy Helme's Vagabonds, a fixture which has been played since 1989 continuously, with only 1992 lost to rain.
As usual in recent years, we played on the attractive 1st XI ground at the Elms prep school. This year it was a 30 over game.
In 2014 James Hacking top-scored for the Vagabonds, making 103. In 2015 he managed 66, included 6 sixes.
The "champagne moment" occurred when Edmund Krarup ran out Ellis with a direct hit from cover point. At the insistence of the Vagabond team, an extra ball was bowled at the end of the innings to reflect that their umpire had earlier called a short over.
CRG were well supported by their younger bowlers; Philip Gallagher took 3 for 17, Edmund Krarup 1 for 15 and Harry Wise 0 for 20, all off their full complement of 6 overs.
CRG opened with the Krarups, pere et fils. There ensued a long partnership. Umpire Oliver Wise spotted that Vagabonds Captain Jeremy Helme had posted three men behind square on the leg side, and he awarded a no ball in accordance with Law 41.5. After he had explained his decision, several Vagabonds gave prolonged voice to their disgruntlement at this application of the Laws. The Krarups' stand lasted to the end of the 21st over: Bill Krarup was bowled for 81 when the score had reaches 168.
This was a record for any wicket for the CRG in its 136 matches to the end of the 2015 season. Three runs later, Edmund Krarup was bowled for 55 and Conor Gallagher fell for a duck.
After that mini-collapse, Bob Gibson and Harry Wise steadied the ship, with Harry striking the winning four with three overs to spare. A splendid dinner was enjoyed by both teams at Glewstone Court that evening.
With plenty of rain on the Sunday morning, and more forecast, the Almeley fixture was restricted to 25 overs per side. Almeley won the toss and batted. Jones retired after an accomplished 50.
Pick of the CRG bowlers were the openers, with Harry Wise conceding only 12 and Philip Gallagher 14 from their five over allocations. The rain-affected pitch made run-scoring difficult; consequently the total of 114 was better than par.
In reply, the two Wises were sent in to open. Harry Wise scored an attractive 39 including 6 fours, putting on 63 with his father, Oliver, who made 14. Harry was the only CRG batsman able to maintain the required scoring rate.
CRG were beaten by 10 runs.
As ever, the CRG are grateful to Noel and Nienke Manns, who organized the Herefordshire weekend and entertained those who could stay late on the Sunday evening to a magnificent supper. The CRG had played much enjoyable cricket in 2015.