The CRG 2018 season listed only four fixtures, rather than the usual five, as it proved impossible to arrange an available date for the Hambledon match. Our season began as usual with an indoor net at Lord's, generously sponsored by Magnus Eriksson.
The CRG's first match was in 1981, but the cricket club really got going in 1984. Inevitably, the players from those days are elderly by cricketing standards, and the three current match managers, Noel Manns, Bill Krarup and Oliver Wise, at this point all in their late fifties, agreed that it was time for younger players to be captaining the teams.
Accordingly, the team for the first match against the Pitt Club on 12 May at Jesus College, Cambridge, selected by Bill Krarup, was captained by his son, Edmund. The ground is the only one within the curtilage of a Cambridge college. It is a beautiful setting, graced, when an undergraduate in the 1950s by the future England captain, Ted Dexter.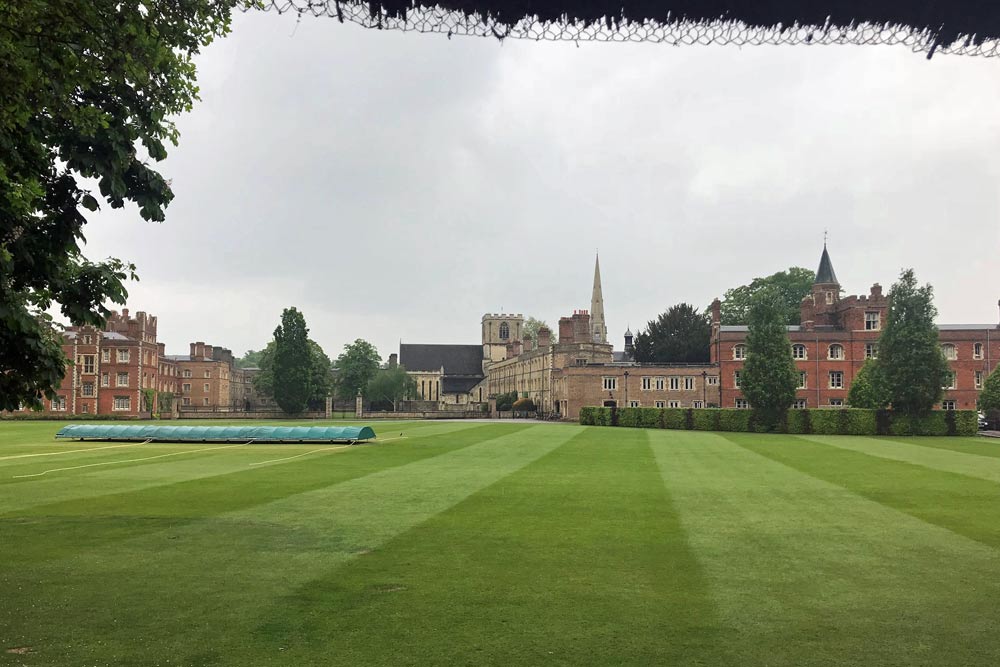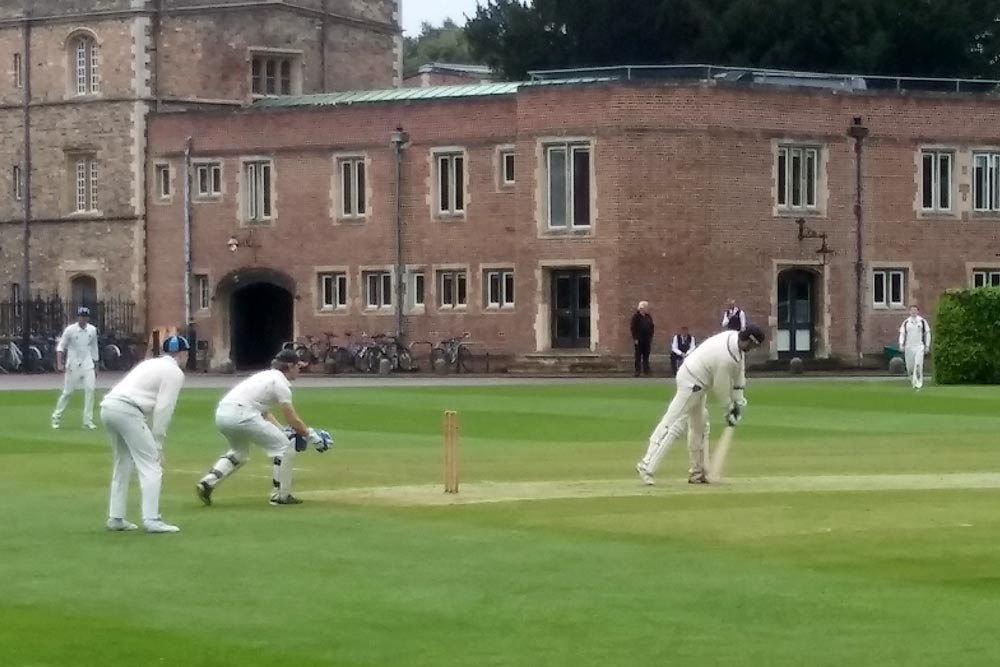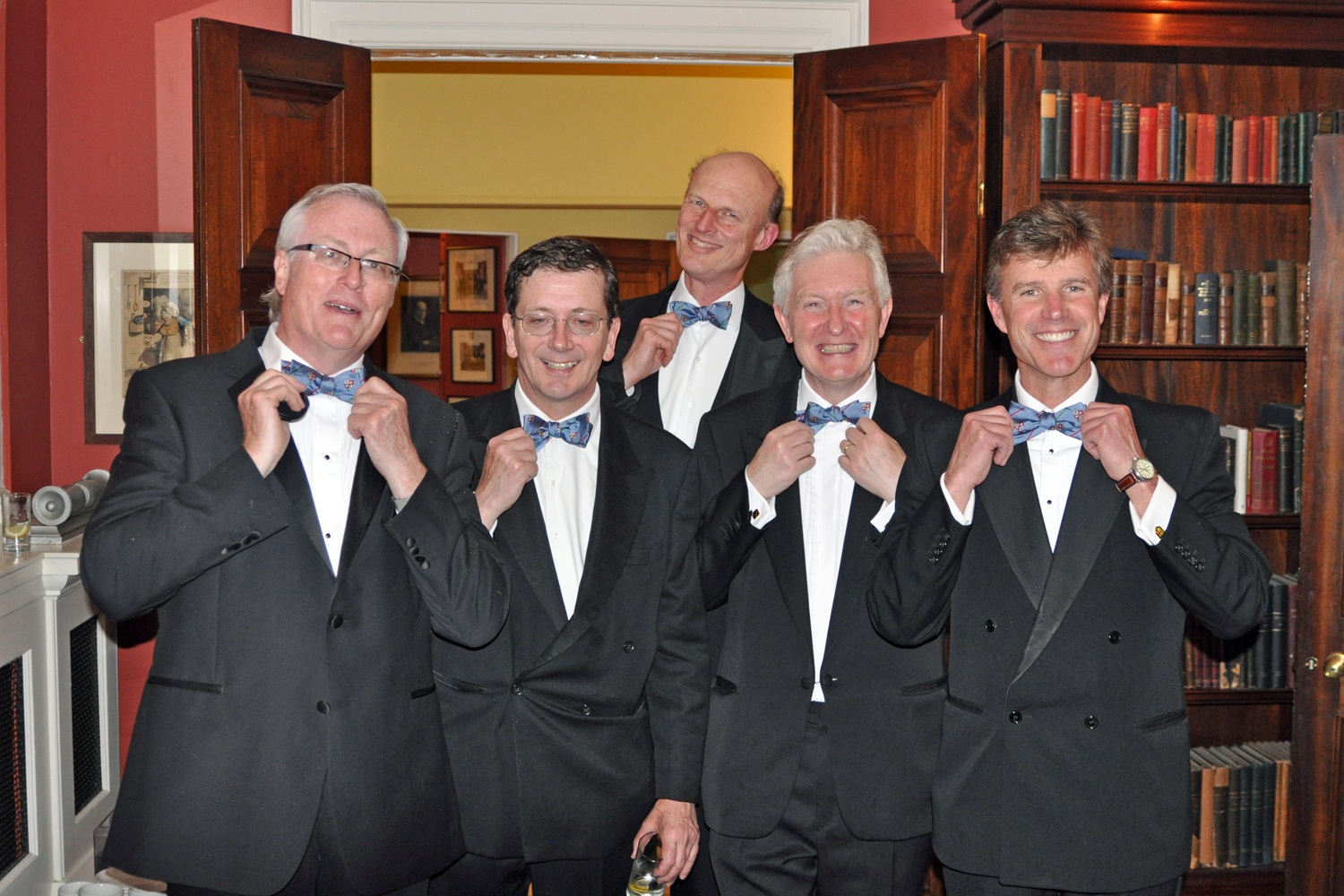 After a hot late spring, it was unlucky that the weather turned just before this game, happily restored to the fixture list after a year's break. With several hours' rain, it seemed that no play would be possible. But eventually, the weather improved and a 10-over match was agreed. Tidy bowling restricted CRG to 76 for 3, with Ollie Powell making 26 not out, and Ollie Vartan 18 not out. When the Pitt batted, George Wilders bowled Boys-Stones with his first ball, but 15 was scored off Oliver Wise's only over, and 17 off Ollie Powell's only over. John Berry bowled well and economically, but the Pitt won with by 8 wickets with 5 balls to spare. A splendid black tie dinner ensued, with food and gins of a high standard and singing with much enthusiasm.
15 July saw CRG at Althorp. Sadly, this will be the last of the CRG fixtures for the time being at Althorp, and indeed it was the last match before the ground is turned over for agricultural purposes. Charles Spencer, who has played without batting or bowling for ten years, is retiring from cricket and none of his two sons or five daughters share his great enthusiasm for the game.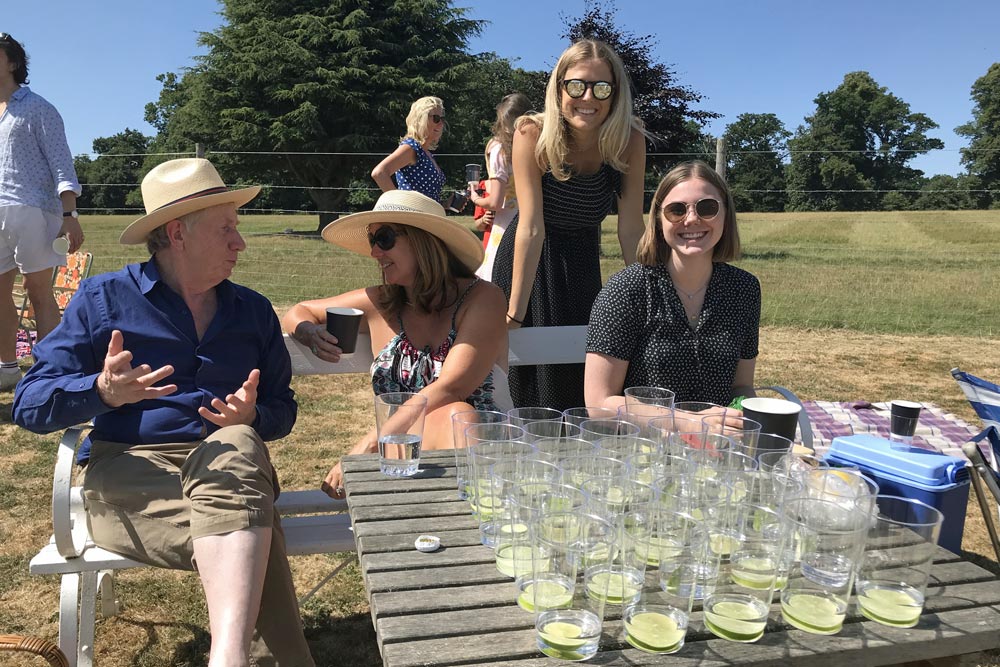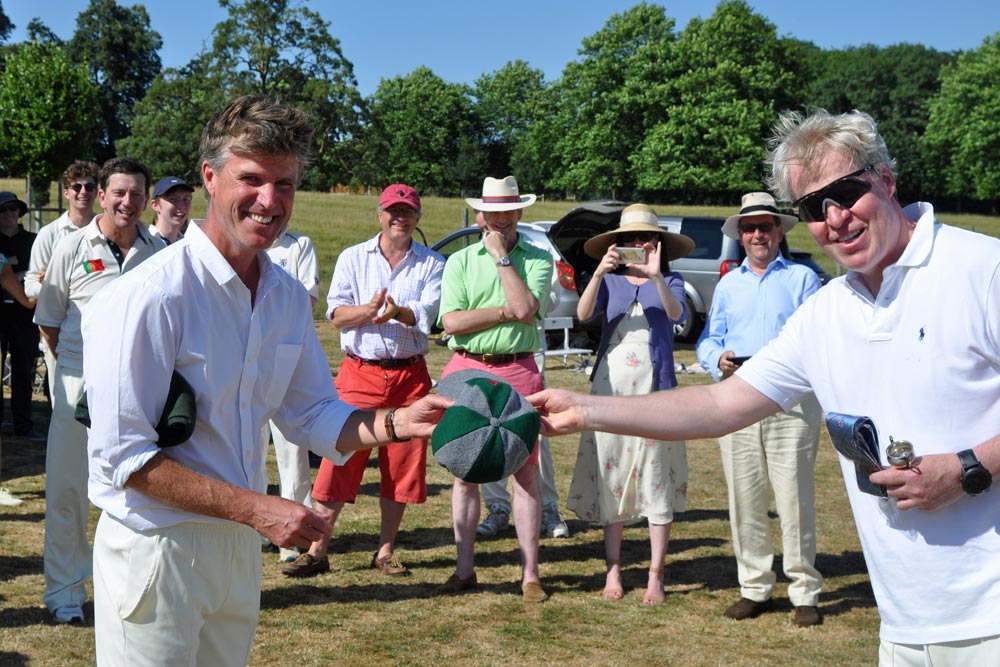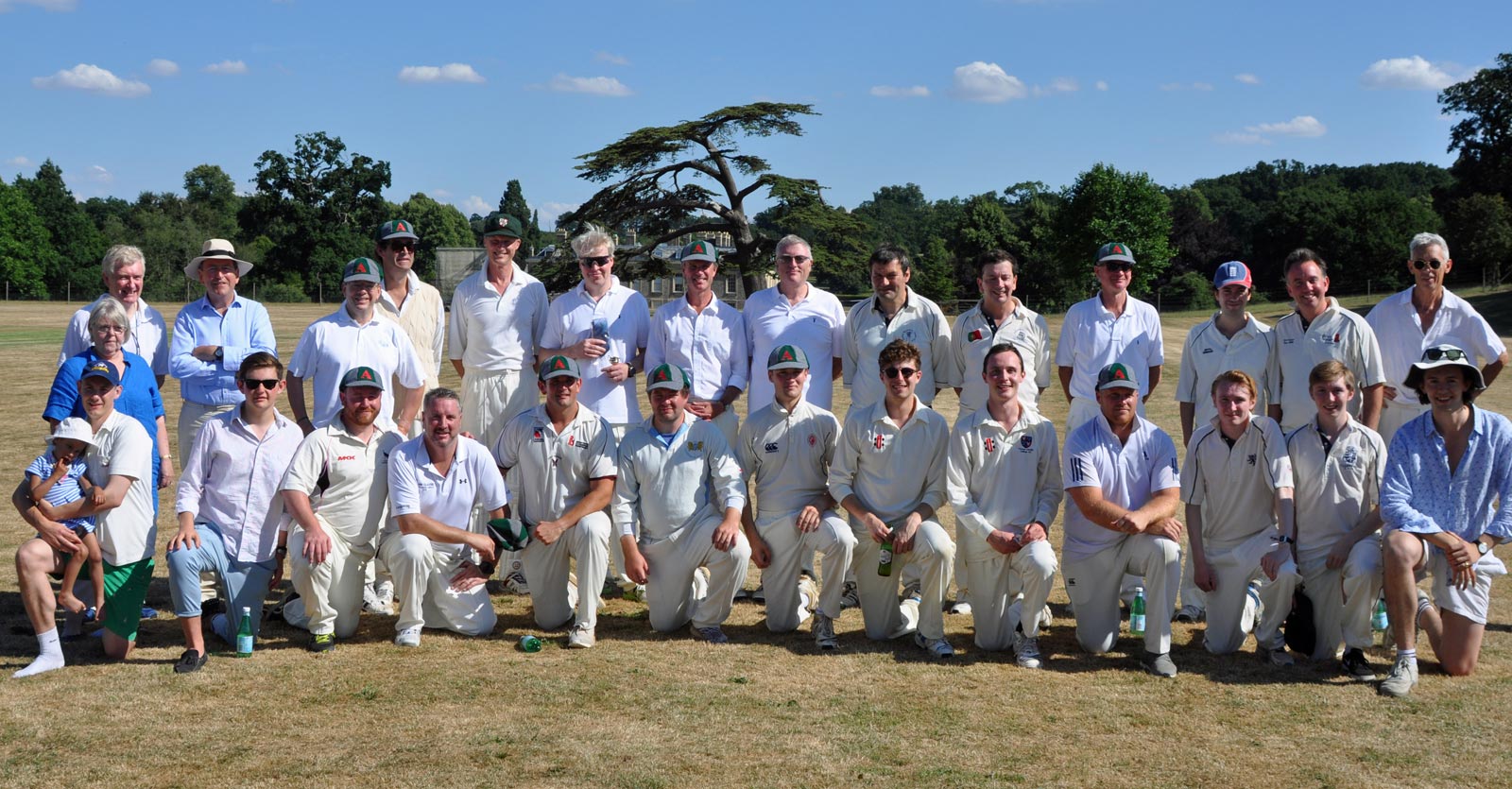 Harry Wise took over the CRG captaincy for the usual 20-over match. Althorp won the toss on a hot day and elected to bat. Harry asked Edmund Krarup to bowl the first over. Edmund dismissed Austwick for 8 and then Harry took a good catch to dismiss the Shakespearean scholar, Sir Jonathan Bate, off Edmund's bowling. Bringing himself on as second change, with his first ball Harry almost took a fiercely struck return catch. The reprieved batsman was Richard Levi, currently of Northamptonshire and formerly of South Africa. The 30 year old Levi, in his second 20 over international, against New Zealand, reached his century off 45 balls and his innings included 13 sixes. He fell short of these Olympian heights against CRG; scoring 85 not out, with five sixes.
Althorp's score of 201 was never in danger; but good batting contributions were made for CRG by Ollie Powell with 28 and Tim Day with 22; with a late flurry, off gentler bowling, by Harry Wise (11 not out) and Oliver Wise (11). Althorp won by 80 runs. In the ensuing speeches, Charles Spencer was elected an honorary member of CRG and was presented with a CRG 40th anniversary tie; Bill Krarup, who has always managed this match since its inception in 2013, was awarded an Althorp cap. The cup for the winning team, presented last year by Bill Krarup, will be retained at Althorp. It is hoped that at some point in the future, even if two generations must pass, the fixture will be restored. The teams and spectators then feasted in the ballroom and enjoyed watching the second half of the World Cup final.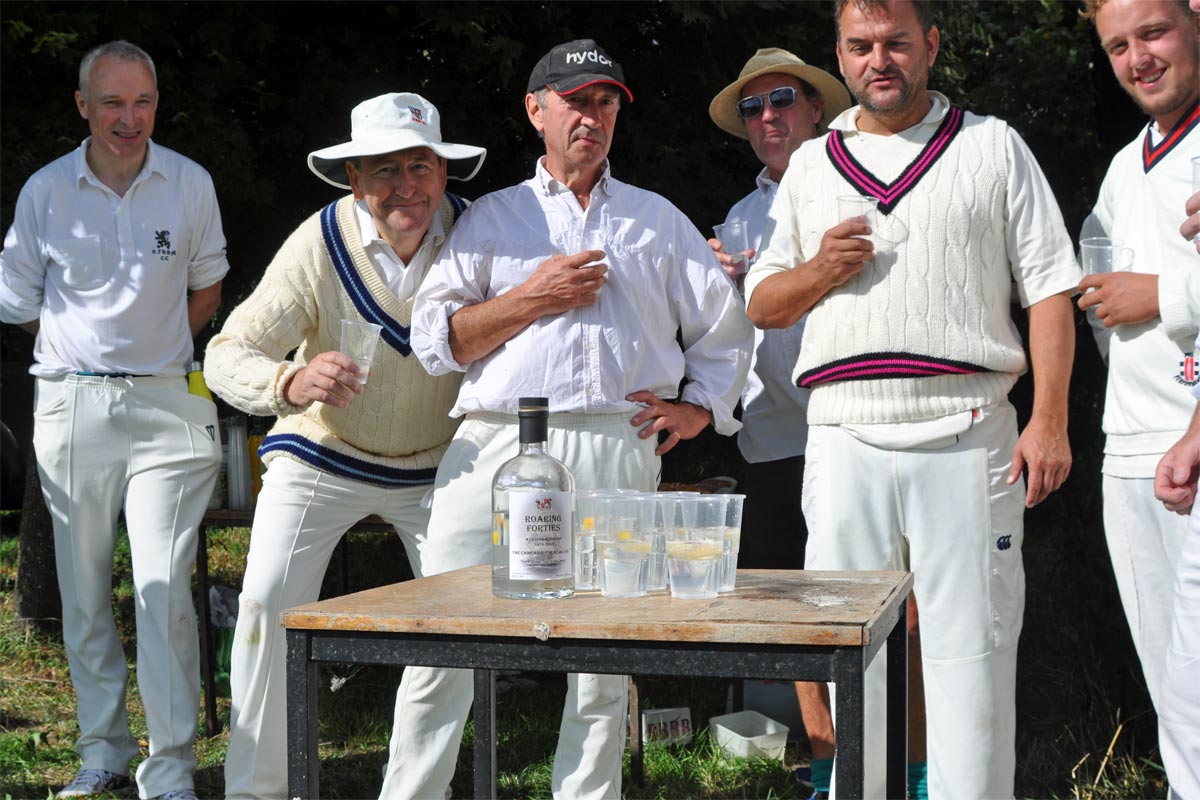 As usual, the season ended with the August Bank holiday tour to Herefordshire. The Saturday game against Jeremy Helme's Vagabonds was played again at Preston Wynne. A 30-over match was agreed between Helme and CRG captain James Powell. Fearful of rain, the captains agreed that wides be allotted two runs, with no extra ball, until the final over of each innings. The Vagabonds batted first. CRG had lost players to injury and William Harding was delayed in traffic. Harding's sister, Sarah Wise, sportingly fielded as a substitute for him. Her place in the CRG ranks was not the first of Sarah's cricketing distinctions in 2018. She became a full member of MCC this year, the first woman to be elected after waiting the full period on the waiting list. She proved a safe outfielder at third man and mid-wicket. The Vagabonds openers, Price and Lancaster, both made 50 and retired. The most successful CRG bowlers were William Harding with 3 for 12 and Griffith with 2 for 28. The Vagabonds posted a challenging 186 for 6.
After four overs CRG were 9 for 2. Then Preston (50 retired) and Oliver Wise (27) took the score to 100 for 3 when Wise was leg-before, with CRG behind the run-rate. Philip Gallagher hit a quick 11, when he was caught. James Powell launched an assault, supported by Charles Gallagher. Off the final over, bowled by Captain Helme, Powell scored 3, Charles Gallagher a single and Powell hit two sixes. With one ball left, CRG required one to tie and two to win. Helme bowled to Powell. The ball was just outside off stump, hit a crack and kept low, going through to the wicket-keeper, who started to celebrate. Gallagher called for a run but Powell did not respond. More significantly, umpire Wise noticed that Helme had clipped the wicket in his delivery stride and called no ball. Thus the scores were level and one ball was still left in the final over. Helme silently took his team off and did not respond to Wise's call that the scores were level, with one ball to play. As umpires Wise and Gibson did not suggest at the time to Helme that he would forfeit the match by refusing to play, and as the scores were level but the innings not complete, the result was a draw.
A new verse has been added to the CRG Calypso (for which Bob Gibson is mainly responsible):
Wise is umpire at Preston Wynne:
One ball to bowl; two runs to win:
Helme runs in and clips de wicket:
"No ball!' cries Ol; he's told to 'stick it'.
A splendid dinner followed at Glewstone Court, with bonhomie restored.
Prolonged torrential rain on the Sunday morning resulted in the Almeley match being called off, fortunately before Magnus Eriksson, the most dedicated of CRG players, had set off from Cornwall, where he was holidaying with his family.
It was a shorter season, without a win. Looking back, it is particularly pleasing to recall the contributions made by the younger players, taking on increased responsibilities, both captaincy and playing. Edmund Krarup, Harry Wise and James Powell all captained well. Oliver Powell and James Powell are at the top of the all-time CRG batting averages, and, following his success at Althorp, Edmund Krarup now enters in the all-time bowling averages in sixth place, with 16 wickets. Harry Wise is equal sixth in total wicket takers with 28 wickets, the number of wickets also taken by Chris Holden, Ollie Powell and George Powell, all younger players. And Philip Gallagher retains the CRG record of being the only CRG cricketer to bowl a Test batsman in a CRG match.