A new milestone has been added to Anglo-Portuguese relations. In time, we feel that the significance of the Campaign for Real Gin's visit to the Real Gin distillery at Pegões will take its place alongside previous notable landmarks such as:
1147 AD: the appointment of monk and Crusader (an early Campaigner?) Gilbert of Hastings as first Bishop of Lisbon; Gilbert commenced work on the Sé cathedral.
1386: the Treaty of Windsor, followed by the marriage of Philippa of Lancaster, daughter of John of Gaunt to John I of Portugal; the Treaty is recognised as the world's oldest recorded allegiance between two nations.
agreement between Oliver Cromwell and John IV to establish an English Cemetery in Lisbon.
1662: the marriage of Catherine of Braganza to Charles II, bringing with it Bombay and Tangiers as part of her dowry.
the establishment of numerous English-owned Port houses.
1807: protection of the Portuguese Royal Family as it fled Napoleon's attack on Lisbon for Brazil.
Ongoing: the soap opera that is/was 'The Special One'.
The CRG Team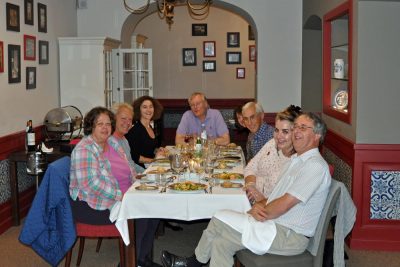 A party strong on quality was despatched by the CRG to Lisbon, consisting of Founder Marvin Faure and Emmanuelle Faure; Mr and Mrs Hon Sec, Nick and Helena Ellis, Official Chronicler of the Fortieth Year Bob Gibson and Lynne Gibson, and Pathfinders Tim and Sarah Smee.
Centrepiece of the weekend was a magnificent day organised with the help of our newest member, Jacinto Policarpo, one of the team of four behind Real Gin.
Adega de Pegões – Wine Tasting
The day started with a visit to the Agricultural Cooperative of Pegões, to learn about and taste their selection of wines. It was fascinating to learn of the origins of the cooperative, on land colonised under a settlement programme directed by the Salazar Government, donating land to thousands of agricultural workers and directing the plantation of 830 hectares of vineyard. The Cooperative was formed in 1958.
Our tour explained how the grapes are brought in from the 96 farms, strictly by variety, and are then graded and assessed for the likely quality of the finished wines.
Average annual production is around 12 million bottles, of which around 35% is exported.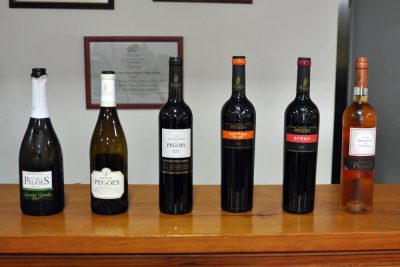 We were treated to an extensive wine tasting, taking in the relatively new sparkling wine, crisp whites, high-end reds and the delicious Moscatel.
The Wine Society speaks highly of winemaker Jaime Quendera. Both the Moscatel and Colheita Seleccionada (described as "popular, food-friendly blend of chardonnay and four local varieties aged briefly in oak for a velvety, creamy texture") can be ordered from The Wine Society – follow the links.
Real Gin
After a legendary lunch at a local restaurant, it was on to the Real Gin distillery (and bar!)
Visiting Real Gin was an education in what can be achieved with imagination, hard work and belief.
The beginning of the journey was an almost throwaway line at dinner involving Jacinto Policarpo, his sister Raquel and their respective spouses Alex and Luis. "Let's make a gin" piped up Luis. Two weeks later he had identified a supplier for the base alcohol; the name 'Real Gin' was decided on ('real' meaning 'royal' in Portuguese, hence the crown on the label); a building originally intended as a restaurant but which had lain empty for years was secured as a premises; a still was commissioned from a Portuguese copper worker; and it all built from there.
All four partners have retained their full-time jobs, and have young families, so it would have been impossible to have got to where they are without hard work and passion. Nowhere more so, than in fending off a challenge against use of the name 'Real Gin' by a wine company of a similar name – this was defended successfully through all levels of the Portuguese Courts.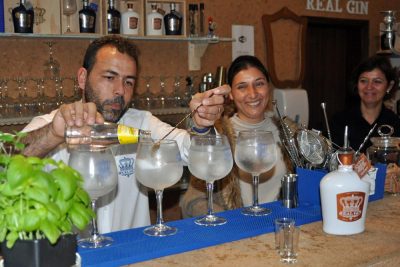 Less than three years into the adventure, the production of Real Gin remains a largely manual operation. But they have steadily grown their market, and striking blue Real Gin bottles are being seen on an increasing number of bar shelves, at fairs, and in seven export markets. There are two products, a clear classic-style gin, and a fascinating aged gin, which is allowed to mature for three months in Moscatel barrels acquired from Adega de Pegões just up the road! The aged gin takes on flavours which to our amateur palates had an almost Armagnacy characteristic – though the preferred mixer remains tonic.
A portion of the Real Gin premises is given over to a rustic-style bar, and after the tour, we repaired there and Jacinto turned mixologist, preparing large gins, 'Portuguese style'. Emboldened by this brew, Nick proceeded to give a speech of thanks in Portuguese:
Em nome da 'Campaign for Real Gin' ou CRG, eu gostaria de agradecer vocês pela hospitalidade generosa de hoje. Quando q a CRG foi fundada por Marvin há quarenta anos, não se pretendia ser uma organização seria. Não podemos dar crédito para o fato de que gin se tornou uma bebida muito popular hoje em dia, mas estamos muito felizes por isso.

Quando fizemos planos para nosso quadragésimo aniversàrio, Bob descobriu Real Gin no Facebook e sentimos que, por ter temos o mesmo nome, deveríamos nos encontrar. Nos gostamos muito do seu gin e gostaríamos de dar uma garrafa do nosso Gin 'roaring forties' para vocês. Esse Gin foi feito especialmente para o nosso aniversàrio esse ano. Tambèm, temos duas das nossas gravatas do quadragèsimo aniversàrio que gostaríamos de dar para vocês.
Nick then presented a bottle of Roaring Forties and two 40th Anniversary ties, inviting Jacinto to become our newest member.
This was an extraordinarily good day, and we must thank all the team at Real Gin, and especially Jacinto, who bought into our initial approach via Facebook, and not only arranged the visit to Real Gin, but also organised the tour of Adega de Pegoes, and lunch.
On our return to Lisbon we regrouped and were led by Sarah and Tim to the Time Out Market, a historic market hall (think Smithfield for example) that had fallen into neglect and disrepair, and has been resurrected as a foodie hub. Multiple foods and bars are available under one roof, with central eating benches. This was the perfect venue at the end of our day, allowing everyone to graze on as much or as little as they fancied. Tim insisted on buying a portion of 'goose head barnacles', to be eaten alive, though not everyone was brave enough to try.
Remembrance Day at St George's Church
Heavy rain was predicted from the middle of the day onwards on Sunday. On the 100th anniversary of the WW1 Armistice, it seemed appropriate to attend the Remembrance at the English church of St George.
A packed church drove home the close ties between Portugal and the UK. St George's Church sits within the English Cemetery, and the names of the war dead in the cemetery were read out. Movingly, the German Ambassador was among those laying wreaths. The service followed a traditional pattern, though with some twists – the Last Post was a quite different version to the one played in the UK. At the end of the service, the Portuguese national anthem was sung with gusto, followed by God Save The Queen.
An invitation to all to drinks and canapés with the Ambassador was sadly undermined by the rain, which was coming down by now in Monsoon fashion. An advance party headed back for the hotel in an Uber, leaving the stragglers to stagger home as wet as if they had fallen into the Tagus.
Even though we were only a couple of hundred yards from the acclaimed Museu Nacional de Arte Antiga, such was the persistence of the rain, we were left little option but to celebrate Nick and Helena's wedding anniversary with another good lunch.
Where to next year? Ideas on a postcard, please…
CRG Trip to Lisbon November 2018 (click any image to open lightbox)