James Seymour Leslie 1958-2009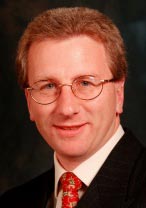 The text of Robert Gibson's tribute to Jamie Leslie at the Service of Thanksgiving held at St Gabriel's Church, Pimlico on 28th July 2009:
The day after Jamie's funeral in Ballymoney in February, my wife Lynne and I attended the funeral of Lynne's mother, Jean.
Jean had lived in a twilight world of dementia for a decade or so. She had reached what is conventionally known as a good old age, but wasn't really, as her quality of life in recent years had been very poor. The overriding sense of the occasion was therefore one of rightness and that she had finally attained peace. The mourners were a comparatively small band, but Lynne's brother managed a few jokes in the address, and even the weather played its part: a crisp, sunny winter's day, perfect for a peaceful farewell.
This could not have been in more stark contrast to the previous day in Ballymoney. That had been cold and blustery, with snow falling on and off. St Patrick's Church was packed out for Jamie's funeral, reflecting his and the family's deep roots in County Antrim and Northern Ireland, Jamie's prominence, latterly on the political and business scene, his popularity among his peers, and of course the relatively young age of his passing.
The overarching sense at that service was not one of rightness, the air was full of deep shock, mourning and sadness. The feeling was that we shouldn't have been there, it shouldn't be happening, that here was someone at the peak of his considerable powers, who had so much more to offer, and upon whom so many relied.
Similarly, I'm sure that we all wish that we weren't here today. For my part, I wish I had been at Lord's last week, with Jamie, for our annual Test cricket pilgrimage. Conversation would have ranged far and wide. We would have discussed the batting indiscipline of Kevin Pietersen, the fiscal indiscipline of Gordon Brown, Andrew Robson's latest bridge column, developments at Leslie Hill and in Jamie's willow business, and most especially the apple of his eye, Charlotte.
And as the afternoon wore on, fortified by a couple of bottles of fine wine, we would have become ever more knowledgeable (an expression of Jamie's that many of you would recognise). And… we would have had the unexpected bonus of seeing England serve it up to the Aussies on the field, which Jamie would have loved!
But of course we are here, and though we have had a little more time to get used to the idea of Jamie's absence, the sense of loss and 'wrongness' remains just as strong. However, this is a service of thanksgiving, and my job isn't to heap more gloom on proceedings; it's to make us proud and happy that we knew Jamie. I, for one, give thanks that I knew Jamie and enjoyed a friendship which developed from slightly riotous beginnings, through a shared love of bridge, cricket, boxing and other pastimes, to a mutual trust and empathy which resulted in the honour of Jamie and Judena inviting me to be Charlotte's Godfather.
I must particularly thank Judena in trusting Jamie's judgement in this matter, as the first time Judena and I actually met was at a Campaign For Real Gin garden party – had I realised that I was under consideration for a position of responsibility, I would probably have behaved rather better!
The chronological facts of Jamie's life are as follows. He was born on March 1st, 1958, in Singida, Tanganyika, and passed away just short of his 51st birthday in Costa Rica. Brought up at Leslie Hill, educated at Eton and at Queens' College Cambridge, he took his degree in Law and Land Economy, showing the discipline and intellect and breadth of interests that characterised his life.
His sense of duty, another recurring theme, was also evident during his Cambridge years: there was never any question that he wouldn't serve with the Ulster Defence Regiment, a commitment that carried both immediate and longer-term dangers.
Almost two decades working in finance, with Standard Chartered, Guinness Mahon, and Guinness Flight Global Asset Management, was then to provide the platform for the next stage in his life. Returning to Northern Ireland in 1997, he took on no less than the Revd Ian Paisley in the UK general election, in the North Antrim constituency.
The following year Jamie was elected a Member of the new Legislative Assembly at Stormont, and was soon appointed a Junior Minister. In 2000 Jamie and Judena were married, and the arrival of their daughter Charlotte was the most wonderful happening in his life.
In more recent years he developed a number of interests, but most especially his sustainable energy business; earlier this year he was elected Chairman of industry body Biomass Energy Northern Ireland.
In 2006 Jamie served as High Sheriff of Antrim, the Sovereign's judicial representative in the county, a position of some honour, held in 1967 by his father, James.
But for Jamie more than most people, bare facts are not enough. What could appear at first a quiet and unassuming exterior, hid a constantly probing intellect, a determination and sense of duty that drove him forward in so many areas of endeavour, a strong sense of justice, fairness and kindness, but also a humour and mischief which was never far from the surface. In short, Jamie was a man of extraordinary depth and breadth; when you consider his various passions, in most of them, he achieved some degree of excellence. And not always easily won, either.
First, let's look at the duty and service side of the ledger. Jamie was brought up in a relatively privileged environment, and benefited from a happy childhood and first-class education. But this was never taken for granted; he was imbued with a sense of duty to the place he was brought up, and to the wider community. His conviction that he should use his advantages and gifts to contribute back was unwavering.
Jamie first explained to me and Lynne his political intentions (note: I don't use the word 'ambitions') on a visit to Hong Kong in around 1995. Over dinner he sketched out how he would return to Northern Ireland and take on The Revd Ian Paisley in North Antrim. My recollection is that he was particularly anxious to prevent North Antrim becoming a sort of dynastic stronghold for the Paisley family.
"Easy to say", I remember thinking, but of course, as usual, he was a 'man with a plan', gained the nomination for the Ulster Unionist Party, and contested the 1997 General Election. Though he came second to Paisley, I think he tweaked his opponent's tail, and history shows us the merit of Jamie's performance: Paisley's majority in the '97 election was his lowest in any election since he first won the seat in 1970.
After such a performance, it was natural that Jamie should stand the following year for the new Legislative Assembly, and he was duly elected as one of the representatives for North Antrim. He served as Deputy Chair of the Assembly's Finance and Personnel Committee, and was appointed a Junior Minister in the Office of the First and the Deputy First Minister.
After a few local difficulties with the Ulster Unionists, Jamie eventually resigned from the party, and in 2007 represented the Conservative Party in the Legislative Assembly elections, contesting North Down. Subsequent moves by David Trimble, taking the Conservative whip in the House of Lords, and talks between the two parties, show Jamie once again to have been ahead of the curve in his thinking. Indeed, I understand that he was to an extent influential in inter-party developments.
Northern Ireland politics is notoriously tribal, which makes the unanimity of the tributes paid to Jamie in the Assembly all the more remarkable. Consider these from his former political opponents:
From the DUP: "I, and other colleagues, had the privilege of serving with James on a number of Committees in the House. I can testify to his unfailing generosity, courtesy, inherent decency, and quiet manner. He impressed everyone with whom he came into contact. His loss will be keenly felt by civic society in Northern Ireland".
From Sinn Fein: "I will always remember him with respect. His politics differed from mine, but he also had exceptional integrity. He listened to the arguments, and during his time in public life he always strove to make a contribution… he demonstrated that politicians can span generations and cultures. His commitment to unionism was unfailing, but his ability to see the other side of an argument meant that his contribution invariably spanned all of the arguments, and his expertise and professional experience was invaluable, particularly in the early days of the Assembly."
From the SDLP:< "James Leslie had a knack of asking that unnerving question — why? Why are we legislating on this matter? Why are we introducing this measure? Why is Government bothered about this issue? That is why he made such a distinctive contribution to political life. He was a man of courtesy, consideration and clear conviction, and this place was the poorer when he left it."
It's hard to know exactly what direction Jamie's public life would have taken from here. At the very least, someone who had the respect of foes as well as friends would have been extraordinarily valuable in an environment requiring reconciliation and bridge building after years of strife. My own view is that we only saw the beginnings of what would have been a very distinguished contribution, and it is a tragedy that we shall never know.
What of the other side of the ledger, the four 'F's: family, friends, fellowship and fun?
A wonderful tribute was sent to me by Marvin Faure, a friend of Jamie's of longer standing than me, and the part relating to their Cambridge days together captures much of the fun of those days:
"We first met at the Open Day for the Cambridge University Officer Training Corps, in late October 1977. I was a serving Naval Officer, having done my initial training at Dartmouth and now "assigned" to Cambridge to get my Engineering degree. Excitable and friendly, Jamie was in sales mode. Wearing a UDR cap badge in his beret, he was trying to persuade visitors such as myself to sign up for the "cavalry": the armoured corps wing. I had only gone along so that I could tell the Navy I had done so and had no intention of having anything to do with the "pongos", as we in the Senior Service used to disparagingly refer to the Army. However, just one tour of the lake in a Saracen armoured car in Jamie's company was enough to convince me this would be a huge amount of fun. Indeed it was, very largely thanks to Jamie's irrepressible and irreverent leadership over the next two years.
I had the great honour to follow him as student Squadron Leader and have no shame in saying that I modelled my leadership on his excellent example. To sum up his approach:
first we are here to have fun and enjoy ourselves,
second we never forget we are in uniform and representing the Queen,
third when on an active part of the exercise we are 100% professional.
Our times in uniform together were very happy days and made a welcome break from academic studies. Jamie would have made an extremely good battlefield commander: brave, intelligent, with a great tactical sense and ability to read the terrain and the enemy's likely movements. We nearly always came off best in our exercises, even against regular army units in Germany or on Salisbury Plain.
Rather early in my time at Cambridge I started a club called the Campaign for Real Gin, and naturally invited Jamie to be a founder member. Initially the only purpose was to drink large amounts of gin while having a great party with like-minded people… Jamie was always an active member, delighting in such events as gin tasting or selecting the cocktail for the Garden Party. The CRG long since has a proper "grown-up" purpose and we have raised quite large sums of money for charity, including enough to fund the Littlehampton-on-Sea inshore lifeboat, proudly christened "Spirit of Juniper". This was of course particularly appropriate from both Jamie's and my point of view, given our shared love of the sea and sailing."
One other achievement of Jamie's Cambridge days was, in some ways, his most remarkable. Jamie would forgive me for saying that he was not the most natural sportsman. A bronchial condition from a young age hadn't helped, yet when he went to Cambridge he firmly set his sights on achieving a Blue. Casting around for the most likely avenue, he decided on Boxing. Boxing Blues are not earned easily, and demand a discipline and regime which would be testing for the fittest. To cap this, Jamie's likely slot in the team was well below his normal fighting weight, but his determination got him there, and earned victory in the Varsity Boxing Match.
Jamie exhibited similar determination, foresight and success in his Sailing. I dare say he sailed for fun on occasion, but he couldn't help seeking out ways of adding an endurance element. In the UK, he and various friends, including Marvin, tackled on more than one occasion The Three Peaks Race, 4 or 5 days of what has been described as one of the greatest adventure challenges in British sport. This involves some 400 miles of difficult coastal sailing, 18 miles of cycling and 72 miles of running, with 14,000 feet of ascent to reach the highest points in Wales, England and Scotland. His team's third-place finish in the Tillman Trophy, a class which demands that at least 4 of the crew of 5 reach one peak, was a triumph of planning, training and endurance. His exultant smile, exhausted on his back having completed the race, remains an abiding memory of Andrew Walsh, one of his team members.
In Gambit, a boat Jamie co-owned in Hong Kong, he finished third in the prestigious Four Peaks race in 1992, a gruelling overnight event involving sailing to the foot of four peaks and running up them. This prompted 12 months of strategising and theories, and in the 1993 race, Jamie and his crew duly carried off a famous victory.
A passion that Jamie and I shared was Bridge, and very good he was at it, too. A prize winner at Eton, he continued to develop his interest at Cambridge, and formed, with me, a weekly Bridge school in London in the 1980s. Though subsequently we all spread off in different directions, Jamie was quick to see the opportunity of playing Bridge on the Internet, and reconstituted our Bridge Tuesdays in the ether. Playing in the advanced lounge on Yahoo Bridge is an unforgiving environment, yet Jamie seemed to have a remarkable ability to adapt to others' conventions, wherever in the world they were and however they played. His recall of hands days later never ceased to astound me, and his observations were never less than acute.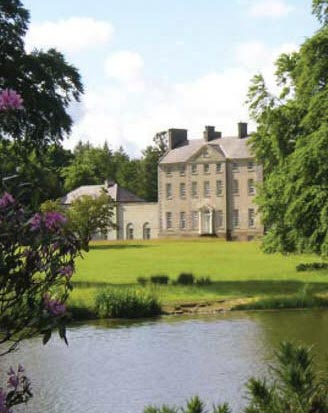 Jamie's home, his family, Leslie Hill and country pursuits were all core to his being. He took immense pride, and meticulous attention to detail, in rebuilding the East Wing of Leslie Hill, a comfortable, modern home in an exterior as faithful as possible to the original 'lost' wing.
And, of course, close to hand was his remarkable collection of wines, assembled through an equally meticulous accumulation of knowledge, planning and care. Those of us who have shared in the results of this project have been lucky indeed. Shooting, his dogs and country pursuits, often in the company of family members, were all great pleasures.
A cookbook to demystify the cooking of game had been a pet project at one stage, and though it was never completed, it testified to his love of cooking and the fruits of the land. I know that Charlotte likes nothing better than her father's pheasant stew.
And of course Jamie took great pride in the various activities of his whole family, but the greatest in his and Judena's most precious shared thing, their daughter Charlotte.
It would be wrong to try to list Jamie's passions without touching on music. It all started with his first record, The Hippy Hippy Shake: this was almost worn out by constant replaying, with Jamie bouncing up and down, joyously accompanying the Swinging Blue Jeans at the top of his voice.
Fast forward a few years, to 1973, and Jamie earned the displeasure of the authorities at Eton by climbing into Windsor Great Park to see Hawkwind. Jamie was, of course, of the John Peel generation, and he wrote regularly to brother John from school, telling him of the bands he should be listening to – a list doubtless gleaned from Peel's radio shows.
One of the seminal moments in John's own musical development was attending, with Jamie, a concert by Rory Gallagher at the King's Hall; for the rest of their lives, they could rarely enjoy a late-night glass of whisky without slipping into reminiscences of that evening.
And then there was Apollo's Organ, a mobile disco that Jamie used to run in Northern Ireland, driving his impressive collection of vinyl records from gig to gig in a beat-up van; generally the gigs were opened with – you guessed it – The Hippy Hippy Shake! But of all music-related stories, surely the greatest, the most absurd, and the one which captures Jamie's joie de vivre, but still with that hallmark of his planning, relates to his days as one of the founding members of the Dubai Blues Brothers.
Here, one of his fellow Blues Brothers takes up the story:
"It would have been 1982. Liam Eaton and Simon Adams acquired a clapped out Dodge of almost identical spec to the one used in the film, followed by myself Mike (Aka Sid) Fisher in a 1973 Oldsmobile Tornado. When Liam left Dubai, Jamie bought Liam's share of the Bluesmobile.
Jamie insisted we needed to cruise properly attired, and promptly located a tailor in Sharjah. We got measured up and returned for our first fitting.
The tailor was a most professional Indian fellow who naturally took pride in his work, and especially his esteemed client Mr Leslie, who after all was bringing in two additional referrals for his business.
Jamie had specially selected an interesting stretchy material for the suits, the significance of which would be revealed in the course of time. We each of us tried on our suits and they fitted perfectly. I was feeling rather satisfied that the process had been so smooth, and I would end up with a rather snappy suit for about thirty quid.
Then Jamie puffed and harrumphed (I'm sure we can all picture that!) and just let us know that all was not right. He was concerned that the suits just did not fit properly. I thought mine was fine. Couldn't understand the problem.
Jamie then said to the tailor: "Sleeves up one inch, chest in two inches, trousers up two inches". The tailor protested, and advised that this was not a good idea. We would not look our best. He tut tutted, shook his head, but his protestations fell on deaf ears. The tailor's reputation was on the line, but Jamie would hear none of it. The tailor eventually conceded to cut the suits according to instructions.
A few days later we went back for a second fitting. As you can imagine the suits were just a little too small all round and pinched in everywhere. Jamie was delighted! Perfect! After all the material was a little stretchy, so we did not split our trousers on bending over. Fully planned from the start! And so that is how we got the "correct" Blues Brothers look."
To finish off, let's return to Marvin's wonderful tribute. I challenge anyone here not to share the sense of unfinished business.
"I have so many personal memories of times together, all happy memories. It is so desperately sad that there can be no more new ones. I have always been comfortable in the knowledge that he would always be there and that we could always pick up the thread of our friendship without missing a beat. I knew that I would come again to Northern Ireland one day, and that Jamie would proudly show me around Leslie Hill and the changes he has made since I was last there. I looked forward to woodcock and claret at the house and a glass of Guinness in the pub.

I thought we had all the time in the world for this and would do it many times when we'd all retired and could recount the old stories again and again by the fire, with the dogs asleep at our feet. It never occurred to me that this might not happen.

Now that Jamie's life has been so cruelly cut short, I am sure you will join with me in giving thanks for his integrity, his courage, his vision and his simple, down-to-earth humanity. Under the sophisticated Eton, Cambridge and City of London exterior, he was really a countryman and a sailor at heart, liking nothing better than the simple pleasures in life and yet driven by a strong sense of duty to do so much more. Not for him the easy money in the City: that was only a short-term means to an end to his life's work of challenging the bigots and the obdurate diehards on both sides of the Northern Irish divide to bring about a peaceful life for all.

We will all miss Jamie terribly. May God take him for his own and may he rest in peace."
And so say all of us.